Monty Python's Spamalot opened on Broadway on March 17, 2005. The musical's concept was based on the film, Monty Python and the Holy Grail (1975), and the stage adaptation parodies and retells the legend of King Arthur and his knights. Mike Nichols directed the all-star cast and Casey Nicholaw choreographed, marking his Broadway choreographic debut.
Spamalot was nominated for 14 Tony Awards in 2005, and won three: Sara Ramirez for Best Performance by a Featured Actress in a Musical, Mike Nichols for Best Direction of a Musical, and Best Musical.
Spamalot played its final performance at Broadway's Shubert Theatre January 11, 2009, after 35 previews and 1,575 performances. The show went on to have a U.S. national tour, an international tour, a West End run in 2006, and a West End revival in 2015.
Tim Curry as King Arthur of Britain

Curry earned a Tony nomination for his performance in Spamalot. After departing the Broadway production, Tim Curry reprised his role of King Arthur of Britain in the West End run of Spamalot in 2006, which earned him a Laurence Olivier award nomination for Best Actor in a Musical. Since the end of his run in London, he has appeared in several television shows and movies, including CBS's Criminal Minds and Christmas in Wonderland. Curry briefly returned to the stage in the Orpheum Theatre's production of What About Dick? (2012) and the Chichester Festival Theatre's production of Rosencrantz and Guildenstern Are Dead (2011). Despite having a stroke in 2012, he has made a recovery and was able to return to his acting career. In fact, while he originated the role of Dr. Frank-N-Furter in the 1975 The Rocky Horror Picture Show, he turned up as The Criminologist in the 2016 made-for-TV musical The Rocky Horror Picture Show: Let's Do the Time Warp Again.
Sara Ramirez as The Lady of the Lake

Since Sara Ramirez's Tony Award–winning performance in Spamalot, she has not returned to the stage. (She won for Featured Actress in a Musical.) However, this is due to her overwhelming success as Dr. Callie Torres on the long-running ABC drama Grey's Anatomy. Ramirez played the role for 11 seasons, departing the show in 2016 at the end of Season 12. Since then, she has provided voiceovers for animated series Elena of Avalor and Sofia the First, and appeared on screen as a regular in Madam Secretary, playing Kat Sandoval for three seasons. Her roles on television have earned her nominations for National Association for the Advancement of Colored People Image Award (NAACP), the People's Choice Awards, and the American Latino Media Arts Award (ALMA). Ramirez won the Screen Actors Guild Award in 2007 for Outstanding Performance by an Ensemble in a Drama Series for Grey's Anatomy. She is also known for her activism for LGBTQ+ rights and was awarded the Ally for Equality Award in 2015 by the Human Rights Campaign Foundation.
Michael McGrath as Patsy, Mayor, Guard 2

Michael McGrath has performed in a multitude of Broadway productions since his role as Patsy in Spamalot, for which he earned a Tony nomination. He went on to appear in the 2007 Is He Dead? and later replaced as Mr. Simmons in Memphis (2009). He played the role of Eddie Brock in 2011's Born Yesterday before his Tony-winning role as Cookie McGee in Nice Work if You Can Get It (2012). Since then, he's been featured on Broadway as Owen O'Malley in On the Twentieth Century and Ladislov Sipos in She Loves Me (2016), and was the standby for Nathan Lane in the fall 2016 revival of The Front Page. Currently, he is originating the role of Stan Fields in Tootsie on Broadway.
Hank Azaria as Sir Lancelot, The French Taunter, Knight of Ni, Tim the Enchanter

Hank Azaria was nominated for Best Actor in a Musical for Spamalot alongside co-star Curry. He has been featured in many television shows and movies since his exit from the Monty Python comedy Spamalot. But Azaria is a familiar face among screen stars. Some of his projects include his voiceover work in The Simpsons (for the past 30 years), Family Guy, and The Smurfs movie series. Azaria has won six Emmy Awards (Ray Donovan, The Simpsons) and one Screen Actors Guild Award (The Birdcage). He has only been back on Broadway one time since Spamalot, which was for the 2007 production of The Farnsworth Invention. In 2017, he starred Off-Broadway in Dry Powder at the Public. Most recently, he's appeared as a regular on TV's Ray Donovan, as Frank DiPascali in the HBO movie The Wizard of Lies, and as baseball announcer Jim Brockmire on IFC's Brockmire.
Christopher Sieber as Sir Dennis Galahad, Prince Herbert's Father, The Black Knight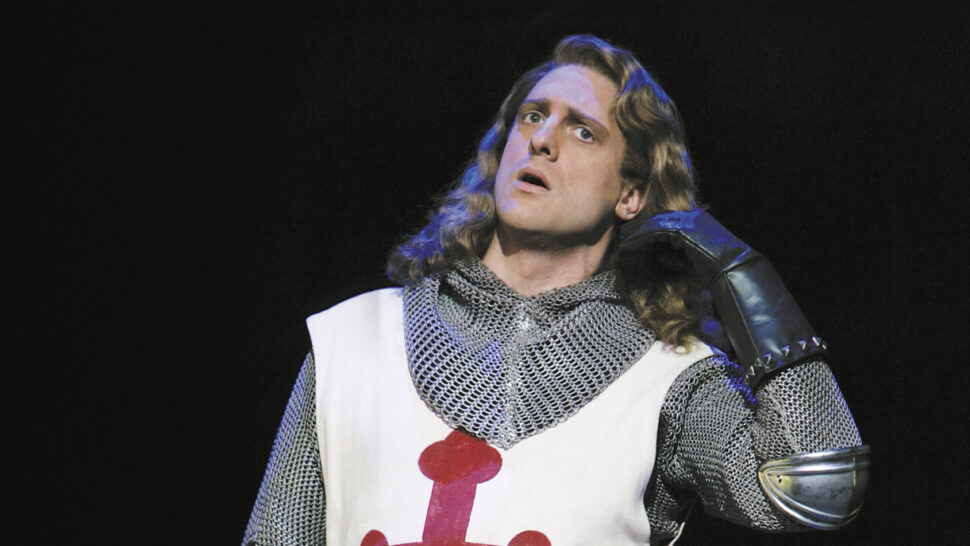 Sieber made his Broadway debut as a replacement for Gaston in Beauty and the Beast and put those comedic chops to work as Galahad, a performance that earned him his first Tony nomination. Sieber has been in numerous Broadway shows since his departure from Spamalot. His more recent theatre credits and roles include his performance as Lord Farquaad in Shrek the Musical (2008), for which he earned his second Tony nomination, George in the revival of La Cage Aux Folles (2010), Charles in Pippin (replacement, 2013), and Miss Trunchbull in Matilda (replacement, 2014). Sieber has starred in a number of high-profile regional productions, including as King Herod in Jesus Christ Superstar at the St. Louis Muny, and Daddy Warbucks in Annie at the Paper Mill Playhouse and at the Muny. He currently plays Trent Oliver in The Prom, a role he originated since the early readings of the original musical comedy.
David Hyde Pierce as Sir Robin, Brother Maynard, Guard 1

David Hyde Pierce known across television, film, and theatre. He is an 11-time Primetime Emmy Award nominee (and four-time winner) and five-time Golden Globe nominee for his work on Frasier. Though he had appeared on Broadway before Spamalot, the show marked his Broadway musical debut. Following Monty Python, Pierce starred in Susan Stroman's Curtains and won a Tony Award for his leading performance. He then returned to plays, starring in Accent on Youth (2009), La Bête (2010), and Vanya and Sonia and Masha and Spike (2013), which earned him another Tony nomination. He made his Broadway directorial debut with It Shoulda Been You, starring Tyne Daly, Sierra Boggess, and Lisa Howard. Most recently, he appeared in the 2017 revival of Hello, Dolly! as Horace Vandergelder, alongside Bette Midler as Dolly Levi. His performance as Vandergelder earned him a Tony nomination for Best Performance by a Leading Actor in a Musical. He is also the 2010 recipient of the Isabelle Stevenson Special Tony Award.
Steve Rosen as Sir Bedevere, Dennis' Mother, Concorde

Since departing Spamalot, Steve Rosen has continued to work around the country at regional theatres, Off-Broadway, and on the Main Stem. In 2007, he joined his Spamalot co-star Azaria in The Farnsworth Invention on Broadway before starring as Benny Southstreet in the 2009 revival of Guys & Dolls. He played Smee in the Off-Broadway production of Peter and the Starcatcher. Rosen also worked at the Muny as Cogsworth in Beauty and the Beast and Chef Louie in The Little Mermaid. In 2011, he returned to Guys & Dolls this time in the role of Nathan Detroit in the national tour. He and David Rossmer have also been working on their own musical, now titled The Other Josh Cohen, which first premiered at NYMF and enjoyed an Off-Broadway run at the Westside Theatre in 2019. He has also guested on series such as The Marvelous Mrs. Maisel and Law and Order: SVU.
Christian Borle as Prince Herbert, Minstrel, French Guard, Not Dead Fred, Historian

Christian Borle has starred in many Broadway productions since Spamalot, becoming a two-time Tony winner. His notable credits include Emmett Forest in Legally Blonde (2007), for which he earned his first Tony nomination; Bert in Mary Poppins (2009 replacement); Black Stache in Peter and the Starcatcher (2011), for which he won his first Tony Award; Shakespeare in Something Rotten! (2015), for which he won his second Tony Award; Marvin in Falsettos (2016), for which he earned a Tony nomination; Willy Wonka in Charlie and The Chocolate Factory (2017). He recently played Bill Snibson in Me and My Girl at City Center (2018). This past spring, he played Captain Walker in the John F. Kennedy Center for the Performing Arts production of The Who's Tommy. He made his directorial debut with Off-Broadway's Popcorn Falls, written by James Hindman, who Borle met during his days in Mary Poppins. This summer he is directing a production of Footloose at The Muny in St. Louis.
READ:
Brad Bradley as Sir Bors, Minstrel, Ensemble
Since his departure in 2008 from Spamalot, Bradley first continued with Spamalot on tour playing Patsy. He then played Mr. Wilkinson in Billy Elliot on Broadway from March 2010 until January 2011. He also was a swing and understudy in the 2011 Broadway production of The People in the Picture.
Thomas Cannizzaro as French Guard and Ensemble
The actor was most recently an ensemble member of the regional production of The Bandstand in 2015, a few years before its Broadway transfer and renaming to simply Bandstand.
Kevin Covert as Sir Not Appearing and Ensemble
After Spamalot, the actor appeared in the Broadway productions of Memphis (2009) as Martin Holton and Buck Wiley, and How to Succeed in Business Without Really Trying (2011) as Mr. Johnson. Currently, he is the Director of Musical Theatre and an assistant professor at Shenandoah University, where he's been teaching since 2016.
Jennifer Frankel, Ensemble
The actor went on to join the 2007 production of Curtains in the role of Marjorie Cook (replacement). Her most recent Broadway credit was as an ensemblist in 2011 for Catch Me If You Can.
Lisa Gajda, Ensemble
Lisa Gajda has been in so many shows since Spamalot, she is a six-time Legacy Robe recipient. Immediately after Spamalot she appeared in Broadway's short-lived The Times They are A-Changin' (2006) and then as a swing in Cry-Baby (2008) before playing Cookie in Pal Joey (2008 revival). She performed in Finian's Rainbow (2009 Broadway Revival) and understudied the role of Susan Mahoney before joining the ensemble of Broadway's Elf. In 2011, she appeared in Catch Me If You Can (2011), followed by Chaplin (2012), and Tuck Everlasting (2016). Most recently, she was the associate choreographer for The Rocky Horror Show at the Bucks County Playhouse in Pennsylvania and appeared as a dancer in the 2019 romcom film Isn't It Romantic?.
Jenny Hill, Ensemble
Jenny Hill also appeared in the 2010 and 2012 productions of Elf on Broadway. Her most recent shows include Something Rotten! (2015), as an ensemble member and understudy for Bea and Portia, and Gettin' The Band Back Together (2018), as a swing, understudy, and dance captain.
Emily Hsu as Minstrel and Ensemble
After Spamalot, Hsu was an ensemble member in the 2010 and 2012 Broadway Productions of Elf The Musical. In 2017, she performed at The Muny in A Funny Thing Happened on the Way to the Forum, as Geminae, and The Unsinkable Molly Brown, as a member of the ensemble. This past May 2019, she was in the cast of the staged reading of Maltby and Shire's Dancers at A Waterfall.
Abbey O'Brien, Ensemble
After finishing up on Spamalot, O'Brien was a swing for the 2008 revival of Pal Joey. O'Brien has recently worked on the Broadway and national touring productions of Waitress as an associate choreographer. Last summer, she choreographed a regional production of Big Fish in North Carolina.
Ariel Reid, Ensemble
Ariel Reid appeared in the 2007 film, Hairspray, after her departure from Spamalot. She was a member of the ensemble in Elf The Musical (2012). Currently, she is performing in Broadway's Aladdin, where she is a swing, as well as the current fight captain and dance captain.
Greg Reuter as Minstrel, French Guard, and Ensemble
Reuter returned to the stage in Shrek the Musical (2008) as part of the ensemble and the understudy for his Spamalot co-star Sieber's Lord Farquaad. He replaced in the ensemble of Chicago in 2010 and understudied Billy Flynn. The Broadway veteran sadly passed away December 18, 2014.
Brian Shepard, Ensemble
Brian Shepard has continued to trod the Broadway boards since Spamalot first as an ensemblist in Young Frankenstein (2007) and understudying Igor, then in the ensemble of Guys and Dolls (2009 revival). In 2011, he joined the ensemble of Follies followed by Something Rotten! (2015). He just closed as part of the ensemble of the 2018 Lincoln Center Theater revival of My Fair Lady.
Scott Taylor, Ensemble
Spamalot was Scott Taylor's last Broadway performance, however he continues to be an active member of the theatre community. The dance captain on Spamalot, Taylor has continued to work in dance as well as with choreographer Casey Nicholaw. He was the associate choreographer for A Little Night Music (2009) and On A Clear Day You Can See Forever (2011). He also worked on She Loves Me (2011) as the assistant musical stager and he is now the associate director for Aladdin (2014), which Nicholaw directed and choreographed.
John Bolton, Standby for Sir Robin, Sir Lancelot, Sir Dennis Galahad, Sir Bedevere, and King Arthur
Bolton has returned to Broadway in several productions, including Curtains (2007) as Daryl Grady, A Christmas Story, The Musical (2012) as the old man, Dames at Sea (2015) as Hennesey and The Captain, and most recently, as Vlad in Anastasia (2017). He has also been featured on television shows such as Madam Secretary and Unbreakable Kimmy Schmidt.
James Ludwig, Standby for Sir Robin, Sir Lancelot, Sir Bedevere, Prince Herbert, Patsy, Not Dead Fred, and Historian
James has not appeared on Broadway since Spamalot, but he has taken the stage in the regional production of Million Dollar Quartet (2018) at the Bucks County Playhouse.
Darlene Wilson, Standby for Lady of the Lake
Darlene Wilson's last Broadway show was Spamalot, where she was a standby and the associate choreographer. Sadly, she passed away in March 2007.
Pamela Remler, Swing
After Spamalot, Pamela Remler worked on many Broadway productions in the dance department—providing dance sequence for Is He Dead? and Bye Bye Birdie (2008) as the associate choreographer. But she has also worked in Broadway stage management as the assistant stage manager on Jersey Boys beginning in 2011, on Hello, Dolly! in 2017 and on Kiss Me, Kate in 2019.
Rick Spaans, Swing
Rick has not returned to the stage since Spamalot. He has joined the family business: the long-established Spaans Cookie Company based in California.