If there's one thing that captures Michael R. Jackson's attention, it's a storyline that's larger than life. "I grew up watching soap operas as a little kid in the mid-to-late '80s with my great aunt," The A Strange Loop creator tells Playbill. In fact, when Jackson first moved to NYC, it wasn't to write a Tony-winning musical (though he did do that). He wanted to write soaps. Drawn to "hairpin twists and turns in storytelling and characters who do and say the unthinkable," the book writer, composer, and lyricist is "smashing together and blowing up" the daytime dramas that shaped him, and twisting them all into an explosive, subversive, seemingly-impossible epic new musical.
White Girl In Danger, which runs Off-Broadway at Second Stage Theater's Tony Kiser Theatre until May 21, follows Keesha Gibbs, a "Blackground" character in the fictional soap opera town of Allwhite. Keesha is in a high-stakes, high-drama quest to center herself in the eyes of the "Allwhite writer," the Wizard of Oz-like entity that pens the narrative in real time, executing authority over each of the characters. Ordinarily stuck in a cycle of police brutality and slavery narratives, Keesha is dying to find herself in a brighter spotlight, living out a story as juicy and as thrilling as her white counterparts, even if that means also catching the attention of the Allwhite killer (who is targeting white women).
Directed by Lileana Blain-Cruz and choreographed by Raja Feather Kelly (who also worked on A Strange Loop), the new musical is a heightened offering, an answer to the torrent of questions that impact each of these creators. The form, a story within an ever-changing story, is also a response to the soap operas, campy high school melodramas, and technicolor cartoons of the '80s and '90s. Jackson in particular grew up noticing a repetition in the journeys of the female protagonists, all seemingly caricatures of the same white woman.
This white woman has gone by a number of different names: Veronica Sawyer, Courtney Shayne, Brenda Walsh, Billie Reed, Fallon Carrington, and Sidney Prescott, to name a few. These women are inherently popular, beautiful, and cunning. They are, therefore, punished or pursued by malevolent forces, typically male, for their popularity, beauty, and imagination. Or they are afflicted by some salacious inner demon of promiscuity, addiction, or deep fear—"a peril of her own making," as Jackson puts it.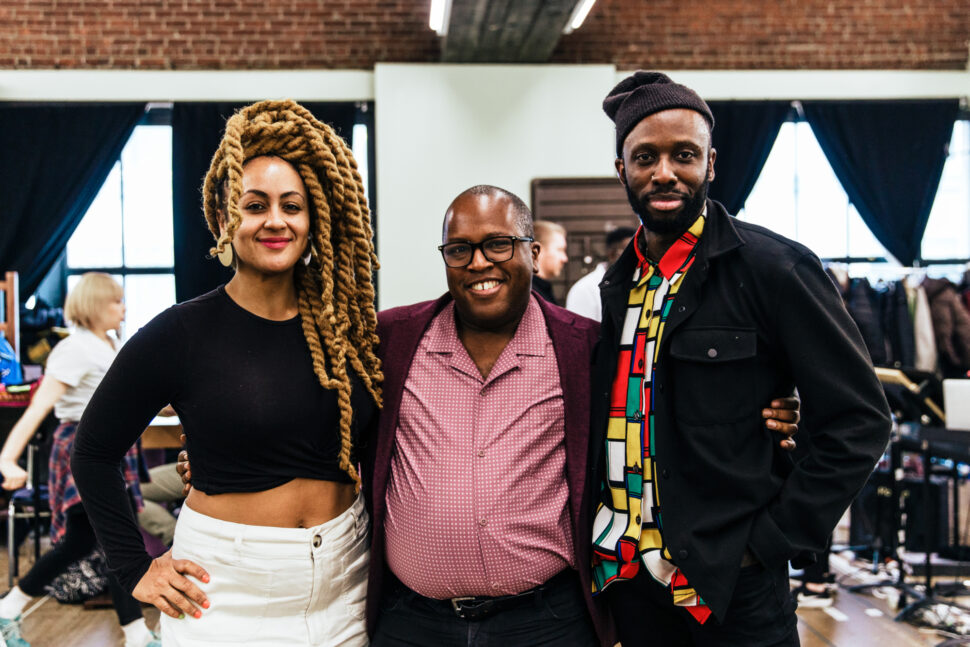 For the young Jackson, the threat of danger for white female protagonists, and white female protagonists alone, showed him just who was culturally important. This was the culture that also educated and influenced his collaborators, Blain-Cruz and Kelly. while Jackson cites Melrose Place, 90201, and Jem and the Holograms as his early examples of white girls in danger, Kelly's references are a bit more sinister. He talks about watching Heathers and Jawbreaker, films where the currency for ascending social hierarchies and defeating one's antagonist is violence.
"A core value, and core question of mine, as an artist is: Do we make culture, or does culture make us?" posits Kelly.
Expanding upon this, Kelly patiently begins to unpack the nesting doll of questions he has gathered while working on White Girl In Danger. For him, this "musical about a girl who just wants to be seen," is a way to take a space that is usually inhabited by white women and center it around a Black girl's struggle for self-actualization.
"This girl in particular is a young Black girl, who feels like the only way to be seen is to become a cookie-cutter version of herself that resembles a white woman," Kelly explains. "Not just any white woman, but a very particular televised, mediated, amalgamation of a white girl."
Kelly takes the unending, unanswerable questions of identity further. "Then it gets very meta because then there's Michael R. Jackson, who is not a young Black girl, and is not a young white girl, but feels a connection to them. Who gets to tell whose story?"
Enter Blain-Cruz. A self-proclaimed "lover of chaos," Blain-Cruz says she leads with excitement, bringing the perspective of someone who was once a young Black girl. As the director, she sees herself as maintaining the central thread of the story, "keeping hold of the narrative in a way that we still have grounding." For all the remarkable truth she sees in disarray, watching chaos alone, from her point of view, is boring.
Blain-Cruz, Kelly, and Jackson have been creating in concentric circles for years, developing a true friendship. Kelly identifies a shared sense of "integrity, absurdity, and passion," driving their creative processes. The alignment he sees between them—ethically, logically, and empathetically—is equal parts beautiful and surprising.
Admittedly not the most visual person, Jackson explains that he thinks in terms of overarching ideas and the music that underscores theatrical moments. He speaks a language built on reference points. In collaborators, Jackson needs artists receptive to "endless, endless, endless, endless reference points," people willing to unpack the inspiration behind the idea he is trying to communicate and run with it.
"Lileana is one of the most empathetic and creative, artistic, warm people I've ever met," Jackson says. "She's a visionary. Raja has an impeccable eye and this uncanny ability to make everybody feel like they're the greatest dancer in the world." Jackson smiles, "I think of us like the Power Rangers. I don't know what color any of us are, but working with them is a true dream."

In White Girl In Danger, Keesha is cast as the Black best friend of Megan, Maegan, and Meagan, three white girls who have all the character traits and plot devices that Keesha has seen make leading ladies. Megan White self-medicates, nursing an addiction to alcohol and prescription painkillers. Maegan Whitehall is in the throes of bulimia. Meagan Whitehead is trapped in an abusive relationship. Despite the tragic trappings tormenting her classmates, Keesha is the only character in the Allwhite universe who is vocally unhappy about the role she's been cast in.
"Keesha is the first person to offer the shift of perspective," Blain-Cruz explains. "The person who can kind of see beyond, that there's more out there. That desire for more, which starts off good, to open borders, to expand beyond what you know, can then become all-consuming. But then we get into our consumer culture of [thinking] it's never enough."
For Jackson, that sense of "never enough" is most evident in Keesha's single-minded pursuit to become the main character. "She wants to matter, and there's a lot of talk about mattering," Jackson explains. "The musical starts to question, well, what is the actual end result of all this 'mattering?'"
For Jackson, Kelly, and Blain-Cruz, the "mattering" is particularly important for Black women. Amidst the references to stories like Clueless and Mean Girls, which center white women, there is a reference to a recent Broadway revival (which we won't name here because it'll spoil the fun). In context, the reference is provocative, gasp-inducing for some members of the majority-white audience at a recent Sunday evening performance of White Girl In Danger. Jackson describes the musical referenced as "a very sophisticated version" of a theatre trope he's noticed, and another convention he's breaking.
"There's a long history of Black characters in musicals or operas who were written by white writers, wherein those Black women characters usually have some bravura musical moment," Jackson says. "But the content of those moments usually is not really saying much. Those moments are mostly about the musical affectations and the emotion."
Kelly sees this too. He cites a long line of Black female characters relegated to either supporting roles, like the Shopettes in Little Shop of Horrors, or show-stopping numbers that seem to exist purely for entertainment's sake—missing nuance, heart, and complexity. For an example of the latter, Kelly cites Dreamgirls. In his eyes, the function of White Girl In Danger is a rallying cry.
"Black women are a special kind of person," Kelly says. "There's a call to action that is a part of the musical that I stand behind which is, thank them. Thank them by giving them what they deserve. Give them their opportunity, give them their chances, center them, ask them what stories they want to tell, make it happen for them, and realize it for them."

Growing up between New York and Miami, Blain-Cruz found artistic inspiration for staging White Girl In Danger from the scale of La Traviata at the Met and the randomness of Cats on Broadway (it's fitting then that she's directed on Broadway and will soon direct at the Met Opera). This is a three-hour musical that threatens to spill off the stage. It's huge.
Adam Rigg's set, coated floor-to-ceiling in a womb-like Millennial pink, shifts rapid fire with seemingly each new scene, placing the players everywhere from cotton fields, Saved By the Bell-style lockers, and the horror movie woods of every summer camp slasher flick. Screens, with projection design by Josh Higgason, play theme songs, title sequences, and commercials—to remind the audience where the action is contained. Montana Levi Blanco, one of the "color queens" of the design team, anchors the teenage angst using '90s mall goth fishnet tights. And then there is the lighting design by Jen Schriever, a bold palette that serves like a television editor's eye to draw us into the drama. The visual result is a collage, the ultimate mood board, with images cut out furiously and layered indiscriminately, yet artfully. It's this mayhem-by-design, this vastness, that drew Blain-Cruz to the project in the first place.
"I remember somebody saying, 'This musical is impossible,'" she says, recalling an early sharing of the work at Joe's Pub. "I was like, 'Yes, yes, that's my favorite kind of thing to do.'"
For Blain-Cruz, when you strip back the technicolor lighting, large-scale projections, and pure ambition that drives Keesha, she's left with a deeper understanding of personhood and its beautiful complexities.
"What is at the core of all of these [stories], even what we would seemingly think of as ridiculous soap operas, is people looking for love and recognition," Blain-Cruz says. "We can be both heroes and villains. And we can hold ourselves accountable, and we can love each other, even in our brokenness. That, for me, feels really important."
That importance is in yet another of Jackson's bait-and-switches, a musical that calls out white girls in the title, introduces a Black girl in pain, and then shatters all that in a cathartic reckoning. For all the danger the musical promises, this is not a sarcastic or somber story. This is about Black joy.
From Jackson's point of view, the call for Black joy speaks to his understanding of Blackness, an understanding that he hopes will give new vocabulary to those who speak about identity, happiness, and belonging.
"When you hear about Black joy in the musical, it's something that contains multitudes," Jackson says. "People often say Blackness is not a monolith, but I think they say that without really understanding what they're saying. If Blackness is not a monolith, then that means it's everything: It's joy, it's rage, it's mystery, it's sadness, it's villainy, it's victimhood, it's indifference."
The new musical is a series of questions, a chimera of sorts. It's delightfully frustrating to try to sum it up in a word, to try to bottle its abundance. In short, while it may be called White Girl In Danger, to this Black creative team, it is a celebration of Blackness.
"The core of White Girl In Danger is Black," Jackson says. "And Black is everything, the good, the bad. It's everything. White Girl In Danger is a Black musical. The core of it is Black expression."
See more photos of White Girl In Danger below.