Currently back in New York City at Off-Broadway's New World Stages (where the show first began 2008), the Broadway production of Rock of Ages opened April 7, 2009, at the Brooks Atkinson Theatre and later moves in 2011 to the Helen Hayes Theatre.
Set in 1987 Los Angeles, the five-time Tony-nominated jukebox musical includes classic rock hits from artists of the time, such as Bon Jovi and Journey, the book by Chris D'Arienzo tells the story of small-town girl Sherrie falls in love with big-city rocker Drew on the Sunset Strip.
Though the show headlined American Idol's Constantine Maroulis and Broadway regular Amy Spanger, the original company of Rock of Ages boasts names of some of today's most notable stars. See what the full cast has be
Constantine Maroulis, Drew

Maroulis earned a Tony nomination for Best Actor in a Musical for Rock of Ages, his first time originating a role on Broadway. (He replaced in The Wedding Singer as Sammy.) Maroulis' stage and television careers have continued since his departure from Rock of Ages. He continued to perform as Drew on tour until July 2011 and also had a cameo in the 2012 film adaptation. In 2012, he played Dr. Jekyll and Edward Hyde in a 25-week national tour and on Broadway in Jekyll & Hyde. He returned to his leading role in Rock of Ages in 2014, until its closing in January 2015. He also earned a second Tony Award nomination as lead producer on the Spring Awakening revival. Maroulis has continued his stage career in several productions, including Jesus Christ Superstar at The Muny, where he played Judas (June 2017) and in Jekyll & Hyde at North Shore Music Theatre (2018). The former American Idol star is also known for his television appearances in Madam Secretary, Unforgettable, and Law & Order: Special Victims Unit, and also for his music career, including his newest record Until I Am Wanted, out this fall. He has toured with Steven Adler of the original Guns and Roses, and in Postmodern Jukebox and Rocktopia. His daughter Malena James was born in 2010 to Maroulis and castmate Angel May Reed.
Amy Spanger, Sherrie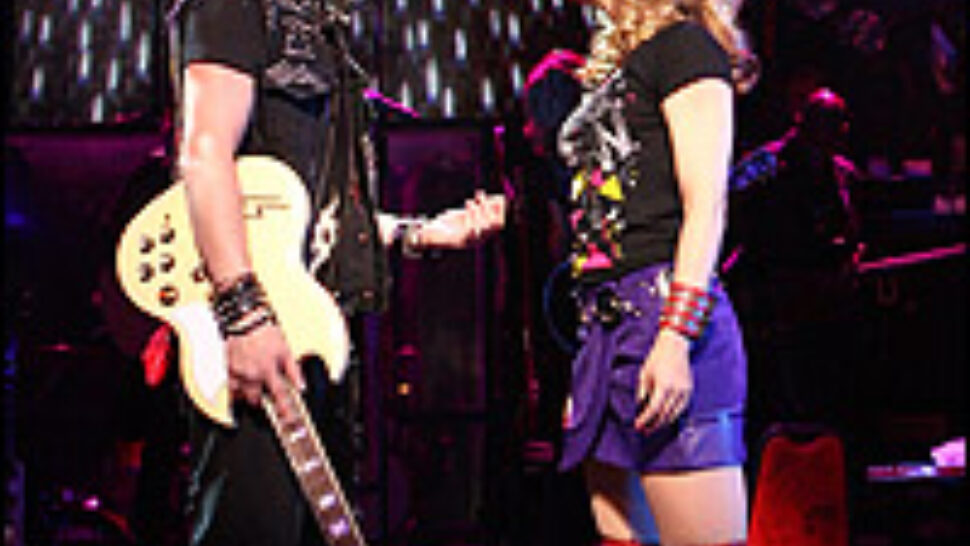 Spanger departed the production on July 13, 2009. She went on to perform in the original Broadway cast of Elf (2010) as Jovie. Between 20120 and 2015, Spanger enjoyed multiple stints at Broadway's Chicago as Roxie Hart. She later replaced for Mrs. Wormwood in Matilda (2015). Since then, she has not yet returned to Broadway, though she remains active on the concert circuit, having recently performed with The Jonathan Larson Project at Feinstein's/54Below.

James Carpinello, Stacee Jaxx/Father

Carpinello has not returned to theatre since Rock of Ages. However, he has made several film and television appearances in The Mob Doctor (2012), Gangster Squad (2013 film), as well as recurring characters on Gotham (2016-2017), and The Blacklist (2018). His most recent television roles include Max in The Gifted and Anthony Cabrera in The Enemy Within.

Adam Dannheisser, Dennis/Record Company Man

After playing Record Company Man and Dennis, Dannheisser took a break from the stage for television and film. His television credits include The Good Wife (2012), Falling Water (2016), and Elementary (2018). He returned to Broadway in the fifth revival of Fiddler on the Roof in 2015 as Lazar Wolf, and then as Yossi Beilin in Oslo at Lincoln Center Theater Off-Broadway in 2016—a role he reprised on Broadway in 2017. He currently playes widowed father Charles in Beetlejuice at the Winter Garden Theatre.

Mitchell Jarvis, Lonny/Record Company Man

Jarvis departed Rock of Ages in 2011 and has been featured in a multitude of regional, Off-Broadway, and Broadway productions, such as The Threepenny Opera (2014) at Signature Theatre, the staged reading of The Noteworthy Life of Howard Barnes (2014) at New World Stages, and, most notably, as the lead in Gettin' the Band Back Together (2018) on Broadway. He is currently reprising his role as Lonny in the Off-Broadway production of Rock of Ages.

Michele Mais, Justice/Mother

After a 22 year hiatus from Broadway, Mais originated the role of Justice in the Broadway productions (having been with the show since its pre-Broadway run at New World Stages). Since then, she has been heavily involved with theatre at the Oregon Shakespeare Festival, including appearances in Macbeth and Henry IV, Part One. This summer she is performing in As You Like It at the OSF.

Lauren Molina, Regina/Candi

Molina made her Broadway debut in 2006's Sweeney Todd before taking on Rock of Ages in 2009. Since then, Hher Off-Broadway credits include Marry Me a Little (2013) and Desperate Measures (2017), for which she won a Lucille Lortel Award for her performance. She also starred in regional shows such as Assassins at Yale Rep as Squeaky Fromme, Audrey in Little Shop of Horrors at Cleveland Playhouse, and Janet in The Rocky Horror Show, directed by Hunter Foster at the Bucks County Playhouse. Most recently, she worked on a production of You're A Good Man, Charlie Brown, at the Cincinnati Playhouse in April 2019, where the actors were also their own orchestra. But, perhaps, she is best known for her band, the Skivvies.

Paul Schoeffler, Hertz

Rock of Ages marked Schoeffler's seventh role on Broadway. His previous credits include Le Bret in Cyrano The Musical (1993), King Marchan and replacement choreographer in Victor/Victoria (1995), Mr. Darling and Captain Hook in Peter Pan (1998/1999 return engagement), the standby for Guido Contini in Nine (2003), and Vittorio Vidal in Sweet Charity (2005). His most recent Broadway performance was in the 2017 revival of Sunset Boulevard where he played Cecil B. Demille. Having guested on shows like The Blacklist, he is on the Amazon Prime Original show The Bug Diaries, where he voices the role of Spider Dad.

Wesley Taylor, Franz

After making his Broadway debut as Franz in Rock of Ages, Taylor's really burst onto the scene with his featured role as Lucas Beineke in The Addams Family (2010). He had signed on to the Broadway-bound Nerds, but the show never made it to the Main Stem. Instead, he returned as Plankton in SpongeBob SquarePants (2017). He is also known for his featured role of Bobby in the TV show Smash (2012). His most recent stage credits include the Off-Broadway production of Alice By Heart (2019), which will release a cast album TK, and the staged concert of The Who's Tommy at The Kennedy Center. He is also one of the creators behind the his award-winning digital series Indoor Boys, on which he also stars as Luke.

Ericka Hunter, Ensemble (u/s Sherrie)
Rock of Ages marked Hunter's thired Broadway show. Since then, she has been featured in several Broadway shows, including Doctor Zhivago (2015) in the ensemble, American Psycho (2016) as Sabrina and an understudy for five featured roles, and Miss Saigon (2017) in the ensemble, for which she also was the assistant dance captain. Currently, she performs in the ensemble of Broadway's newest arrival, Moulin Rouge!, and understudies the roles of Arabia and La Chocolat.
Angel Reed, Ensemble
Reed works constantly as a producer and a choreographer and teacher, particularly with the National Dance Institute as well as her show Rock 'n' Roll Febauchery. She is also a full-time working mom.
Katherine Tokarz, Ensemble
Rock of Ages marked Tokarz's most recent Broadway show, but since then she has appeared in regional productions, on TV, and in film. Her other shows include Leap of Faith (2010) at the Ahmanson Theatre, Breaking Through (2015) at Pasadena Playhouse, and Cabaret (2018) at the Celebration Theatre in Los Angeles. She was most recently featured in A Christmas Story Live (2017) on Fox.
André Ward, Ensemble
Ward went on to perform in Broadway and touring productions after his final bow in Rock of Ages. He appeared in Something Rotten!, where he was the replacement as the Minstrel—the opening singer. He later understudied the role of Nostradamus. Ward then played the roles of Jamal/Ted in Jimmy Buffett's Escape to Margaritaville and moved on to the national tour after the Broadway production closed in July 2018.
Tad Wilson, Ensemble
Rock of Ages marked Wilson's Broadway debut. He also understudied the roles of Lonny, Hertz, and Dennis. He went on to perform in Priscilla Queen of the Desert (2011), Bonnie & Clyde (2011), and the national tour of Sister Act (2012). His most recent Broadway appearance was in Gettin' The Band Back Together (2018) where he was a member of the ensemble.
Savannah Wise, Ensemble
After making her Broadway debut in Rock of Ages as a member of the ensemble and an understudy for Sherrie, Wise took over as Sherrie and departed the show September 13, 2009. Since then, she starred as Evelyn Nesbit in the Broadway revival of Ragtime and the off-Broadway show, Lucky (2011), where she played Wanda Clark. Wise also is recognized among the theatre crowd for portrayal as Jessica on the TV show, Smash (2012).
Jeremy Woodard, Ensemble
After Woodard left the musical in 2012, he took a spot in the ensemble of Broadway's The Last Ship. He then appeared in the ensemble of Broadway's School of Rock (2015) before hitting the road with the national tour of Wicked (2016) where he played Fiyero. He is currently on the national tour of Waitress (2019) as Earl.
Standbys, Understudies, and Swings
Jeremy Jordan
Broadway favorite and Tony nominee Jeremy Jordan made his debut as a swing in Rock of Ages! He then went on to star in several shows, including West Side Story (2009) as a replacement for Tony, Bonnie & Clyde (2011) as Clyde Barrow, Newsies (2012) as Jack Kelly, American Son (2018) as Officer Paul Larkin, and was most recently seen as Dr. Pommater in Waitress (2019). He is also well known for his film and TV roles, such as Randy Garrity in Joyful Noise (2012), Jimmy Collins in Smash (2013), Jamie Wellerstein in the film adaption of The Last Five Years (2014), and Winn Scott in Supergirl.
Bahiyah Sayyed Gaines
Gaines appeared in three Broadway shows prior to Rock of Ages. After she departed the show in 2009, she joined Memphis as an ensemble member, and then moved to Chicago as Velma Kelly in 2011. She appeared in the ensembles of Evita (2012), After Midnight (2013)—where she was also the assistant dance captain—and On the Twentieth Century (2015). She is currently performing in Moulin Rouge! as La Chocolat.
Michael Minarik
Michael went on the join the company of Matilda in 2015 as a replacement for the role of the Escape Artist, and a replacement understudy for Mr. Wormwood and Miss Trunchbull. He is one of the founders of the Institute for American Musical Theatre and their Head of Acting.