*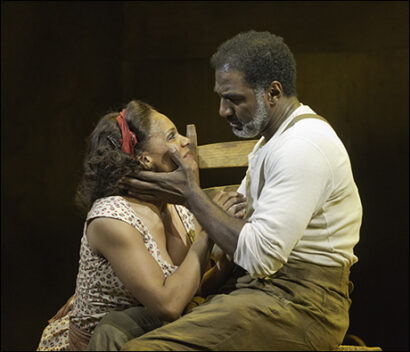 A multitude of love stories have played out on the Broadway stage. Some have ended in wedded bliss and others in heartbreak. As the new Broadway theatre season begins, Playbill.com has looked at our favorite musical romances to uncover a range of beaus — from sweet stoners to pathetic puppy dogs to semi-stalkers — who have had audience members both swooning and squirming in their seats, while learning a few romantic life lessons a long the way. Ladies and gentlemen, if he hasn't married you in 14 years, he probably never will!
Click through to see the sweethearts and the scallywags who make up the best and worst boyfriends of Broadway.
Best Boyfriends
Hugo Peabody, Bye Bye Birdie: Hugo sent shrieks through the Sweet Apple, OH, telephone lines when he pinned Kim in the back of the school bus. Then, when their relationship was threatened by the arrival of the heartthrob rock star Conrad Birdie, he manned up and punched out his cocky competition on "The Ed Sullivan Show." At first Kim was upset that he ruined her live TV kiss, but Hugo's protectiveness paid off when Conrad got too fresh, and wasn't not long before Kim and Hugo were going steady once again.
Cliff Bradshaw, Cabaret: The American writer looking for adventure in Berlin certainly finds it in the cabaret performer Sally Bowles. Although he resists at first when she wants to move in with him after only knowing each other a few minutes, he quickly falls in love with his new roommate. When she announces she's pregnant, he pushes them to slow down their fast lifestyle and settle down back in America. Sally is not so convinced that she's the marrying kind, but despite his bisexual tendencies, a lifetime of cozy nights reading books by the fire with Cliff sounds better than occupied Germany.
Lucas Beineke, The Addams Family: It's always a little scary bringing your new boyfriend home to meet the parents, but for Wednesday Addams it's downright frightening. Thankfully, her "normal" boyfriend Lucas takes the hairy cousins and unattached hands in stride when he meets her eccentric family and encourages his uptight parents to be more open-minded.
Henry, Next to Normal: The sensitive stoner coaxes his teenage love Natalie out of her shell by offering her hits from his apple bong, inviting her to the school dance and assuring her that he "can do" crazy after she expresses fear of inheriting her mom's bipolar disease. It doesn't get much sweeter than that, especially in high school.
Will Parker, Oklahoma!: This prize-winning cowboy's girlfriend, Ado Annie admits she's just a girl who "cain't say no" when it comes to other men, but Will loves her so much that he gives her another chance provided she agrees to his "all er nuthin" ultimatum. When she chooses monogamy (albeit a little reluctantly), all is right on the range.
Porgy, Porgy and Bess: Porgy accepts that with Bess comes a lot of drama, but he never gives up on her. He knows she has potential to be a better woman than the drug-addicted girlfriend of the terrifying Crown, as she's seen by most on Catfish Row. To paraphrase Mark Darcy in "Bridget Jones' Diary," Porgy loves Bess just as she is.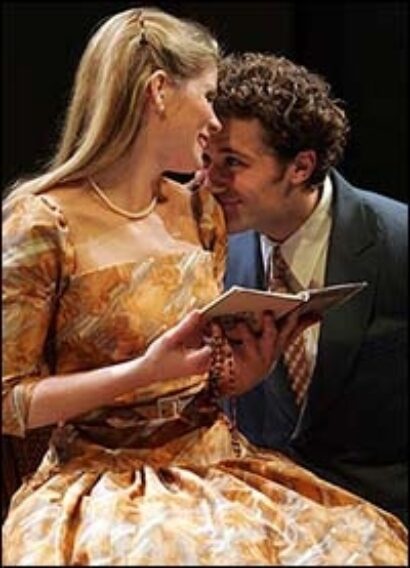 Fyedka, Fiddler on the Roof: All three of Tevye's daughters' suitors are upstanding gentleman, but it's Fyedka who overcomes the most obstacles to be with Tevye's third eldest, Chava. Although the progressive Christian stands up to his Russian friends when they taunt Chava for being Jewish, he's still the most difficult boyfriend for her father to accept, since he is not of their faith. But even after her family disowns Chava for secretly marrying Fyedka, there does seem to be a glimmer of acceptance in Tevye as they all leave Anatevka.
Fabrizio, The Light in the Piazza: If Fabrizio weren't so sweet, he could be mistaken for a stalker, as he continuously runs into Clara and her mother throughout the streets of Florence. Instead it is love at first sight for the naive American girl and the Italian boy. And although Fabrizio has the language barrier and Clara's overbearing mother to contend with, he makes an effort to relate to Clara by learning "American dancing," from his father. Swoon.
Bill Sampson, Applause: Guys this loyal are few and far between in showbiz, but aging Broadway star Margo Channing's director/boyfriend Bill resists the advances of Eve, the young, overly ambitious star nipping at Margo's heels. To him, Margo will always be the star of his show, even when she pushes him away to try and revive her career. Boyfriends like this deserve a standing ovation.
Collins, Rent: At the mere mention of "I'll Cover You" the love song Collins and the drag queen Angel sing to each other, our eyes still well up. One of the first gay couples to be portrayed on the Broadway stage, both Angel and Collins deserve to be on the best boyfriend list for their compassion for each other, but Collins is the one who cared for Angel as he lay dying of AIDS and then rigged an ATM robbery scheme in his honor. We can only hope that they will meet again someday in that big Santa Fe in the stars.
Jimmy, Thoroughly Modern Millie: Like a special Broadway episode of the early aughts reality show "Joe Millionaire," the charismatic Jimmy Smith pretends to be just getting by on his good looks when he meets the young enterprising gold digger Millie. After she falls in love with him despite his seemingly non-existent bank account, he admits that he is from a very rich family, but his mother wanted him to find a girl who loved him for him and not just his inheritance. It turns out that Millie did, in fact, strike gold.
Worst
Berger, Hair: As the peace-loving life of the party, Berger believes strongly in free love. A little too strongly for his regular hookup Sheila, who wishes she didn't have to share him with the whole tribe. Unfortunately it seems like Sheila will be waiting a long time for Berger to commit, while he concentrates on burning draft cards, taking drugs and finding the 16-year-old virgin Donna. We like to think that in the '80s Sheila and Berger exchanged their protests for wedded bliss and a shared closet full of shoulder pads.
Billy Bigelow, Carousel: Many people think that "negging" the flirtation style in which you insult your intended started with the 2005 dating bible "The Game," but turns out Rodgers and Hammerstein were using forms of this mating ritual in their 1945 musical Carousel. On her first date with the notorious carousel barker Billy Bigelow the wide-eyed mill girl Julie Jordan says she doesn't want him to be alone to which he replies, "Holy smokes you're dumb. I don't need to be alone. I could have all the girls I want." Had Cosmpolitan been around back then, she would have known that the lug was no good, but instead she followed him all the way to the altar, only to end up a widower and single mother with a bad reputation.
Bobby, Company: Don't hate the player, hate the game. Bobby is a good guy, with many couple friends who enjoy his "company" and want him to find the right girl. But this makes him especially dangerous to the opposite sex, because it gives the women in his life hope that he could one day want more.
Monty Navarro, A Gentleman's Guide to Love and Murder: At the end of the musical Monty Navarro is quite the catch as the Ninth Earl of Highhurst, but to become one of the most eligible bachelors in Britain, he had to murder the eight other people in line for the throne, including his fiance Phoebe's brother. He also entered in that relationship to climb further up the social ladder, having already been in love with the saucy, but married, Sibella for many years. The girls fight over him despite his felonious ways, and he's able to work his devilish charm to end up with one on each arm.
Nathan Detroit, Guys and Dolls: After 14 years of promises that he'll give up "cards and dice for shoes and rice" gangster Nathan Detroit's fiance Adelaide convinces herself that she's getting an illness from his fear of commitment. As he continuously stands her up to run his crap games, she finally realizes that her man will never change — well, not until they're actually married.
Curtis Taylor Jr., Dreamgirls: It's never a good idea to sleep with your boss, which Dreamgirls' lead singer Effie White finds out the hard way when she falls for their manager Curtis. Not only does he end up cutting Effie out of the group, but he cheated on her with her best friend and fellow Dreamgirl Deena, making her a star instead of Effie. Raising his child on her own and struggling through a solo career, she'll definitely think twice next time she decides to mix work and romance.
Freddy Einsford Hill, My Fair Lady: Although Freddy is a nice, handsome guy, he is way too vanilla for Eliza Doolittle. She needs a man with some bite and originality to him, not someone who waits outside her door like a puppy waiting to be let in from the rain. When she sings "Show Me" to him after walking out on Henry Higgins, she might as well be saying, "Next!"
Warner, Legally Blonde: Warner breaking up with Elle was the best thing that could have happened to her, giving the head-in-the-clouds sorority princess the swift kick in the butt she needed to get more serious about her career, but the way in which he did it was sleazy and degrading. When he finally comes crawling back to her blonde locks, she was strong enough to tell him, "thanks, but no thanks."
Bill Sikes, Oliver!: Boyfriends don't get much more nightmarish than this. One of Charles Dickens' most frightening characters, Bill Sikes is a London street rat who takes out his frustrations on his his bull terrier Bulls Eye and his live-in girlfriend Nancy until he finally ends up killing Nancy as she's trying to help the young Oliver escape the criminal life. It turns out their life was not such a fine one.
Joe Gillis, Sunset Boulevard: As the aspiring Hollywood screenwriter Joe sings in Sunset Boulevard: "This is an example of a taker being took." Sure, the fading silent film star Norma Desmond emotionally manipulates Joe into a romantic relationship, but what did he expect when he moved into her decaying mansion and immediately started drinking her champagne while laying by her pool? Their unhealthy symbiotic relationship eventually destroys them both.
Dr. Jekyll and Mr. Hyde, Jekyll & Hyde: It's not everyday that you run into a man that is two bad boyfriends all wrapped up in one trench coat. Dr. Jekyll is a work-obsessed scientist who never puts his fiance, Emma first, even showing up late to his own engagement party. Then when he heads off to his bachelor party he meets Lucy, a prostitute with a heart of gold and befriends her under the assumption that she would make a good subject for his experiment. We've heard that one before. When Dr. Jekyll turns into Mr. Hyde, Emma doesn't hear from him for weeks and he mistreats Lucy, eventually killing her. Both women should have left both personalities long ago.