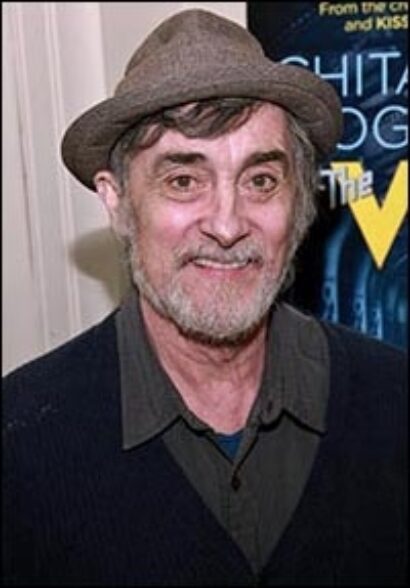 Nicholas Nickleby was unlike anything else ever seen on the London or New York stages when it arrived in the early 1980s. David Edgar adapted Dickens' 1839 tale of the fortune-tossed, but loyal and good-hearted Nicholas who, after losing his father, must struggle to support his mother and sister, all without the help of his uncle Ralph, a heartless businessman.
John Caird and Trevor Nunn co-directed the piece, which was performed in two parts, each four hours in length, for which audiences had to buy two separate tickets. An unlikely prospect to become a hot ticket, the show became a critical and popular sensation after it opened at the Aldrich Theatre in 1980. It arguably inaugurated an era of marathon theatre spectacles which continues to this day.
In 1981, Nickleby played Broadway for a limited run, and proved popular again. It won the Tony Award for Best Play, and Mr. Rees won for Best Actor in a Play. The play aired on television in 1983, earning the actor his sole Emmy nomination.
Roger Rees was in his mid-30s when he landed what would become the role of his lifetime, and it propelled his career into high gear. He appeared as a movie version of the film director Peter Bogdanovich in Bob Fosse's final film "Star 80," about the tragic life and death of Playboy Playmate Dorothy Stratten. He starred in the British sitcom "Singles" from 1988 to 1991. In the States, he was highly visible as Robin Colcord, the wealthy and devious love interest of Kirstie Alley's Rebecca Howe on "Cheers." Mr. Rees became a U.S. citizen in 1989.
He was born May 5, 1944 in Aberystwyth, Wales, and grew up in south London. "I was at a pretty rough school, and the only thing I was good at was art," he told Playbill in 2013. "I got out of this school and went to Camberwell College of Arts, a terribly prestigious thing to do. I was there to be a painter. And I sketched so well that a year later I was sent to Slade School of Fine Art, one of the great art schools." He changed focus when, while painting scenery at Wimbledon Theatre, he was asked to fill a part in a play. "And I suddenly was an actor. I played the lead. I don't remember being nervous. I learned to be nervous later." He continued his stage career in the Royal Shakespeare Company, beginning in 1967. There he appeared in The Comedy of Errors, Three Sisters, The Merchant of Venice, Othello, Twelfth Night and Cymbeline, primarily portraying, in his own words, "an eccentric comic character." An association with playwright Tom Stoppard began when he acted as Henry in the original London production of The Real Thing in 1982. He also acted in the premiere of Stoppard's Hapgood, playing a Russian double agent.
It wasn't until the early '90s that he returned to Broadway, first in the ill-fated musical The Red Shoes, then in a star-studded 1995 production of Cocteau's romantic comedy Indiscretions (Kathleen Turner, Eileen Atkins, Cynthia Nixon and a young Jude Law were in the cast), that got mixed reviews, but netted Mr. Rees a Tony nomination. He then appeared in a revival of Anouilh's The Rehearsal at the Roundabout Theatre Company and a 2000 staging of Uncle Vanya, starring as Dr. Astrov opposite Derek Jabobi's Vanya.
Off-Broadway, he won an Obie in Award in 1992 for his portrayal of a cynical, narcissistic British doctor in Jon Robin Baitz's The End of the Day. The role was well-suited to the handsome, dark-haired Rees' particular strengths in portraying morally compromised figures (or just plain rotters) with intellect, wit, dash and charm. "Rarely has a complete lack of integrity been played with so much integrity, or so entertainingly," The New York Times wrote of him.
In 2002 at Lincoln Center Theater he found one of his most significant and unusual parts in the musical A Man of No Importance, based on the movie of the same name. He portrayed a closeted Dublin bus conductor who admires the works of Oscar Wilde.
In the latter part of his theatre career, Mr. Rees spent more time directing and writing. He directed Lynn Nottage's Mud, River, Stone at Playwrights Horizons in 1997, and an Off-Broadway revival of Arms and the Man in 2000. In 2004, he was named artistic director of the famed Williamstown Theatre Festival, only the fourth person to hold the post in its half century history, and the first non-American. However, his reign was short. He left the position in October 2007.
Mr. Rees and his husband, the writer Rick Elice, collaborated on Peter and the Starcatcher, a play based on a novel by Dave Barry and Ridley Pearson, adapted by Elice, and co-directed by Rees and Alex Timbers. The show, a sort of prequel to J.M. Barrie's Peter and Wendy, traveled from La Jolla Playhouse to Off-Broadway and then to Broadway in 2012. It was a surprise success, running nearly a year and earning several Tony Award nominations, including one for Rees and Timbers. The next year, Mr. Rees essayed what many critics thought his best stage performance in years, as a father who tries to right a wrong against his young son––to the eventual ruin on his family and health––in a revival of Terence Rattigan's The Winslow Boy.
Other film roles included Mel Brooks' "Robin Hood: Men in Tights," "Frida" and "The Prestige." In the '00s, he played Lord John Marbury, the UK's Ambassador to the United States in TV's "The West Wing."
His final stage role was as Anton Schell, the doomed former lover of a vengeful millionairess in John Kander and Fred Ebb's dark musical The Visit. He appeared in the show on Broadway in spring 2015 but had to bow out due to health reasons before the show closed.