As previously announced, hilarity and silliness will ensue at the 9:30 PM concert on May 4, which promises Broadway standards, 90s pop and today and tomorrow's hits. 
He will be joined by guest stars Taylor Louderman (Bring It On, Peter Pan Live!) and Daniel Quadrino (Newsies, Wicked, Peter Pan Live!).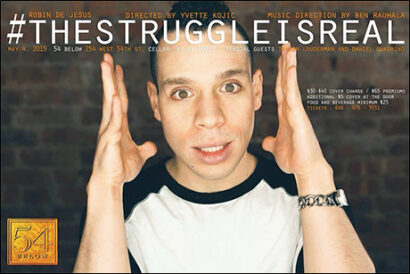 #TheStruggleIsReal, directed by Yvette Kojic, follows De Jesus' solo debut at 54 Below: Crush to Crushed, also helmed by Kojic.
"The last year in my 20s was a lot like Beauty and the Beast. Once the last rose petal fell I'd be 30… FOREVER!!!!" said De Jesus. "I had to pay off my credit card!! I had to make more money!!! And no more hook ups!!!! The struggles got real. The only way it can in a first world country. This show is just my way of laughing at myself, and the ridiculous things that I call 'problems.' I'm so happy to be back at 54 Below. The artists I've seen there have provided me with many inspirational nights."
Benjamin Rauhala provides music direction.
De Jesus, who currently stars as Boq in Broadway's Wicked, was nominated for Tony Awards for his performances in In the Heights and La Cage aux Folles. His other credits include Rent, Domesticated, Patti Issues, Mother Jones and the Children's Crusade and "Camp."
54 Below is located at 254 West 54th Street. There is a $30-65 cover charge plus a $25 food and beverage minimum. For more information and tickets, call (646) 476-3551 or visit 54Below.com.
Robin De Jesus: "Dear Diary" by Britney Spears. Britney is struggling, and she has no one to talk to. She just wants to be noticed. #NoticeMeHorton
Robin De Jesus: "It Wasn't Me" by Shaggy. Shaggy suffers from amnesia, poor thing! He forgot he gave that girl a key, and now everybody's feelings are hurt. Ugh!
Robin De Jesus: "Jerry Likes My Corn" from Grey Gardens. Mama's just trying to lie down and entertain a guest while cooking corn on the bedside burner, as one does, and her daughter just won't shut up! Can't she just have a moment!
Robin De Jesus: "Not Gon Cry" (Mary J. Blige). This one is on reserve for when the struggle is ACTUALLY real. When you've been wronged, lied to, stolen from or cheated on. #HellHathNoFury
Robin De Jesus: "Martirio" from The House of Bernarda Alba. Poor Martirio. Nobody will love her. Story of my life.
Robin De Jesus: "I Wish" by Skee-Lo. As a fellow short man, I know this struggle well. I can't reach the top shelf in the cabinets, I get discriminated against in theme parks, and I can't get an audition for Billy Bigelow. SOMEBODY just let me sing "Soliloquy"! I'LL GO OUT AND MAKE IT OR STEAL IT OR TAAAAAAAAAAAKE IT (breath) OR DAAAAAAAAAAHHHHHHYY!
Yvette Kojic: "Last Name" by Carrie Underwood. Because, do I even remember his first name? #TheStruggleIsReal
Benjamin Rauhala: "BareNaked" (Jennifer Love Hewitt). Jennifer Love Hewitt's "BareNaked" embodies just how real the struggle is on multiple levels. The music was written with Meredith Brooks, the one-hit-wonder who penned the 90's classic "B*tch." Her struggle to maintain relevance working with Jennifer Love Hewitt is real. The lyrics describe getting through the worst kind of day — from waking up from a bad dream, to feeling like no one listens to you or cares about you, to failing at delivering a pickup line, to…having your car stolen. Jennifer Love Hewitt sings about a day where the struggle really IS real. Third, Jennifer Love Hewitt's multiple attempts in the 90s and early 2000s to have a music career — the struggle was real in America, but I'm told she had a solid career in Asia. She sang some classics on the "Sailor Moon" soundtrack. Fourth, the title of the song is "BareNaked," with a capital 'N' instead of…a grammatically space. The struggle to be "iconic" is was particularly real.
But, honestly, this was one of my anthems when I was in high school — the struggle really was real. Thank you, Jennifer Love Hewitt, for sharing your struggles!
Taylor Louderman: "Merry Go 'Round" (Kacey Musgraves). Okay… This might be silly, but here is a song that represents the struggle is real even in small towns, where life is nothing like NYC. Where I'm from…
A broken merry-go-round represents the vicious cycle of life in a small town where people seldom leave and experience a broader horizon. I'm proud to have broken the mold and gotten to experience all that I have, but someday I want to go back and give back. Anyway, the struggle is real everywhere!
Taylor Louderman: "One Perfect Moment" from Bring It On. Then, I feel like I MUST propose "One Perfect Moment" from Bring It On. I just sang it one too many times for it not to be the first song that comes to mind. A girl wants one thing more than ANYTHING, and she sings about the REAL struggle of what it takes to get it. ☺ She's not freaking out, though; she's really okay.
 Daniel Quadrino: "Lonely Old Woman" by the ONE AND ONLY LACRESIA CAMPBELL! Her struggle is real, and she embodies the struggle because… well, watch it! You can see her struggling with being well, lonely.