Marin Mazzie, the theatre star who created roles in Broadway musicals by Stephen Sondheim, Ahrens and Flaherty, and more, died at 57 on September 13 surrounded by family and friends, following a three-year battle with ovarian cancer. Her death was confirmed to Playbill by her publicist, Kim Correro.
Throughout a series of challenging treatments, the Passion and Ragtime star continued to display strength and resilience on the stage, including in multiple concert engagements with her husband and fellow Broadway performer Jason Danieley. Several songs they had regularly performed together took on new meanings, such as Sondheim's "Move On" and "Not a Day Goes By." "[It] plays differently now because of where we've been," she told Playbill in 2017.

Earlier this year, she appeared Off-Broadway in Terrence McNally's Fire and Air at Classic Stage Company.
Ms. Mazzie was born October 9, 1960, in Rockford, Illinois, and studied theatre and music at Western Michigan University. Just months after relocating to New York City, she made her Off-Broadway debut in an Equity Library Theatre revival of Frank Loesser and George Abbott's Where's Charley?
She made her Broadway debut in 1985 (a week after her 25th birthday) in Big River, playing Mary Jane Wilkes, one of the sisters hoodwinked by the two con men in the Huckleberry Finn musical, and who provides a wisp of a romantic interest for Huck, singing three songs including "Leavin's Not the Only Way to Go." Ms. Mazzie subsequently played Rapunzel and understudied Cinderella and The Witch during the original run of Into the Woods.
She came to stardom (and earned her first Tony Award nomination) originating the role of Clara in Stephen Sondheim's 1994 musical Passion, completing the impassioned love triangle alongside Jere Shea and Donna Murphy.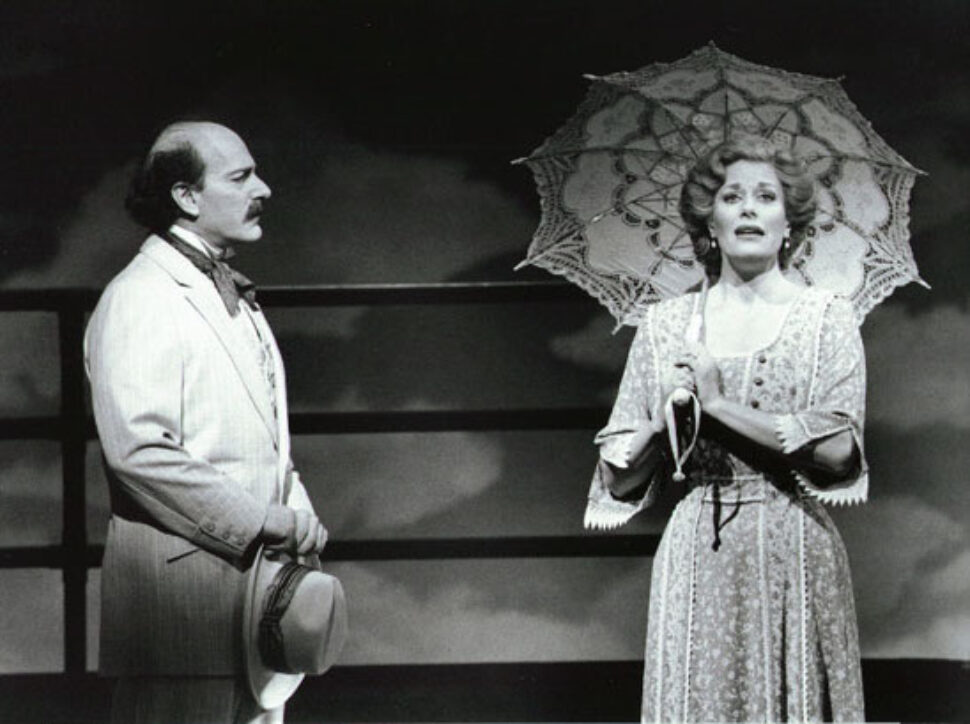 Next, she went on to introduce one of the most beloved theatre songs of the 1990s, "Back to Before," in the 1998 Ahrens & Flaherty musical Ragtime, playing a mother at the turn of the 20th century who has her eyes opened about race relations, the true nature of her relationship with her husband, and her own privilege. This performance earned her a second Tony nomination.
She and Ragtime co-star Brian Stokes Mitchell were paired again in their next show, the 1999 revival of Kiss Me, Kate, in which she stopped the show with her fiery rendition of Cole Porter's "I Hate Men." For this next Broadway outing, she was bestowed a third consecutive Tony nomination. The performance also won her a 2000 Outer Critics Circle Award.
The timing of the song was ironic. While previously appearing in an Off-Broadway production of Trojan Women: A Love Story, she met and fell in love with fellow actor Jason Danieley. They were married in 1997. They often toured around the U.S. in a series of concerts that reflected on their romance. They later released an album of these songs, Opposite You, on the P.S. Classics label.
Read: THE BROADWAY COMMUNITY REMEMBERS MARIN MAZZIE
As her offstage romance was blooming, her onstage pairing with Mitchell continued in 2002 when she took over the role of Aldonza/Dulcinea in Man of La Mancha. Ms. Mazzie subsequently replaced Tony winner Sara Ramirez as The Lady of the Lake in Spamalot, and replaced Tony winner Alice Ripley in the lead role of Diana in the musical Next to Normal, about a woman and her family coming to grips with mental illness, at last sharing the Broadway stage with Danieley, who stepped into the role of Dan.
While Ms. Mazzie's career focused primarily on stage work, she enjoyed a successful run from 2003 to 2006 as the religious Kathy Halverson in five episodes of the CBS sitcom Still Standing.
Ms. Mazzie returned to the stage in 2010 in her first non-musical Broadway performance: the skeptical Claudia Roe in Enron, a drama about the real-life collapse of an energy company owing the the greed and heedlessness of its owners. Two years later, she starred in the Off-Broadway revival of the musical adaptation of Carrie, playing the deeply religious and frighteningly overbearing mother Margaret White.
In 2014, Ms. Mazzie won the role of grande dame Helen Sinclair in Woody Allen's 2014 musicalization of his film Bullets Over Broadway. She had taken on the role in developmental presentations, and following industry speculation over who would lead the show's Broadway bow (with several stage and screen stars reportedly in the mix), Ms. Mazzie ultimately came out on top, playing the charismatic stage diva who casts a spell on a young playwright while plotting her big comeback.
Zorba!
, Ms. Mazzie was
diagnosed with ovarian cancer
after experiencing abdominal pain.
After treatment at the Memorial Sloan-Kettering hospital, surgery, and months of chemotherapy (which she referred to as "healing therapy"), Ms. Mazzie announced that she had beaten the disease. In spring 2016 she returned to the stage for what turned out to be her final Broadway appearance, as Anna Leonowens in the Lincoln Center Theater revival of The King and I.
"I do feel like my viewpoint of the world is different and how I value my life," she reflected at the time. "Not that I didn't value it before, but it has taken on a deeper sense for me…[How it feels to] be in those moments and inhabiting this woman with where I am now in my life." In addition to performing, Ms. Mazzie committed to spreading awareness of ovarian cancer.
Last year, she was inducted into the Theater Hall of Fame, along with Ragtime co-star McDonald. The ceremony was emceed by Susan Stroman, who directed Ms. Mazzie in Bullets Over Broadway.
Ms. Mazzie is survived by Danieley, her mother Donna Mazzie, and brother Mark Mazzie. A private gathering will take place in the immediate future, with details of a celebration of life to follow.
In 2016, Ms. Mazzie was honored with the first Phyllis Newman Women's Health Initiative "Dame" Award. She accepted it at the 2016 Nothing Like a Dame concert, at which she had the last word on her illness, singing an anthem she first sung in a musical revue early in her career: Kander and Ebb's "And The World Goes 'Round."