The 20th season of 106.7 LITE FM's Broadway in Bryant Park concert series will continue August 1 with cast members from Broadway Bounty Hunter, Rock of Ages, The Cher Show, and The Prom.
The free, hour-long performances, hosted by 106.7 LITE FM's on-air personalities, begin at 12:30 PM Thursdays on the Bryant Park stage.
Hosted by Helen Little and co-hosted by performers from Drunk Shakespeare, the afternoon will feature the following artists: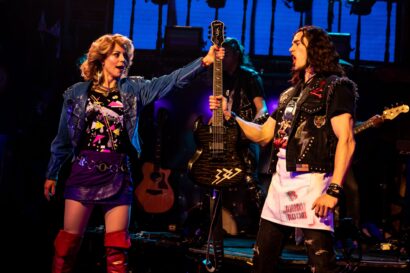 Broadway Bounty Hunter:
Annie Golden, Omar Garibay, Badia Farha, Jasmine Forsberg, Emily Borromeo, Christina Sajous, and Jared Joseph
Rock of Ages:
CJ Eldred, Kirsten Scott, PJ Griffiths, Tiffany Engen, Matt Ban, Justin Colombo, Dane Biren, Kevin Raponey, Mikey Mahany, Autumn Guzzardi, Katie Webber, Ashley Matthews, and Leah Read
The Cher Show:
Dee Roscioli, Aléna Watters, and Michael Tacconi
The Prom:
Isabelle McCalla, Gabi Campo, Courtney Balan, Jerusha Cavazos, Shelby Finnie, Fernell Hogan, Joomin Hwang, Becca Lee, Nick Eibler, Drew Redington, Jack Sippel, Teddy Toye, and Brittany Conigatti
"It is incredible to be returning for our 20th year with an all-star line-up of Broadway and Off-Broadway shows," said Chris Conley, program director of 106.7 LITE FM. "It is because of our listeners and New Yorkers' love of the theatre that we are able to bring back this celebrated summer series and launch the exciting new iHeartRadio Broadway channel."
SEE WHAT IS COMING TO BROADWAY IN THE NEAR FUTURE
The Bryant Park stage is located at 6th Avenue between 40th and 42nd Streets. Lawn seating is available on a first-come, first-served basis.
The remaining Broadway in Bryant Park schedule follows:
August 1
106.7 LITE FM Host: Helen Little
Co-Host: Drunk Shakespeare
Pre-Show: Pip's Island
Broadway Bounty Hunter
Rock of Ages
The Cher Show
The Prom
August 8
106.7 LITE FM Host: Rich Kaminski
Co-Host: Catherine Russell of Perfect Crime
A Musical About Star Wars
Beautiful
Rodgers & Hammerstein's Oklahoma!
Pretty Woman
August 15
106.7 LITE FM Host: Victor Sosa
Co-Host: TBD
Frankenstein
Mean Girls
The Phantom of the Opera
Tootsie