*
A musical that opens Off-Broadway and then transfers to Broadway is predominantly considered eligible for the Best Musical prize at the end of the season when Tony Award nominations are handed out. But this is not entirely the case. Certain musicals that never saw the lights of Broadway during their initial run finally open there and are considered revivals. This has only happened a handful of times. As rules established by the Tony-nominating committee evolve and change, some musicals have never had the opportunity to be considered in the Best Musical category and are relegated to the Best Revival of a Musical category. This happens in the case where a piece opens Off-Broadway and there is a long period of time since its original production and its Broadway inception. Another factor taken into consideration is if the musical is coming to Broadway with its original production intact (director, designers, cast) or is it an entirely reimagined production.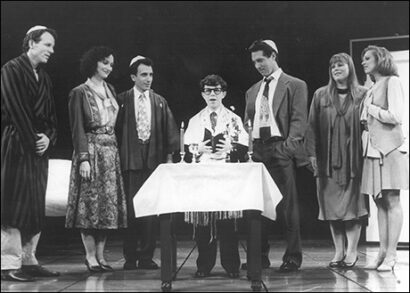 In 1992, the musical Falsettos opened on Broadway and was considered a new musical despite its two separate acts, March of the Falsettos and Falsettoland, having already been produced Off-Broadway. The combination of the two acts secured Falsettos' status as its own unique piece, thereby differentiating it from its two distinctly separate acts, thus securing its status as a new musical. Recent musicals that transitioned from Off-Broadway to Broadway such as Fun Home and Hamilton are not considered revivals because they have made the move in a timely fashion and kept their original productions mostly unchanged. There are, however, musicals that have come to Broadway after receiving original productions only Off-Broadway, that were considered revivals.
The original cast of Broadway's Falsettos dream-cast the revival. Read their choices here.
Assassins, Stephen Sondheim's and John Weidman's musical about disillusioned Americans who attempting (some succeeding) to kill the President of the United States, opened in December of 1990 at Playwrights Horizons. Helmed by Jerry Zaks, and featuring a cast that included Victor Garber, Terrence Mann, Annie Golden, Debra Monk, Patrick Cassidy, Greg Germann, Jonathan Hadary, Eddie Korbich, Lee Wilkof and Jace Alexander, Assassins received mixed reviews and closed after its scheduled, sold-out run of 73 performances. Though there was some consideration of moving the production to Broadway, after the Gulf War broke out in early 1991, some deemed Assassins unpatriotic and un-American, and the climate didn't seem right for a musical that opened with a carnival barker inviting people to kill the president. Alas, no work with a score by Stephen Sondheim is likely to sit dormant for too long, and soon Assassins was being done by theatre groups everywhere, including a well-regarded production by Donmar Warehouse in London that opened in 1992. The Roundabout Theatre scheduled a Broadway production for 2001, but, once again, the specter of war reared its ugly head in response to the 9/11 attacks that would shake our nation to the very core. Prudently, the production was postponed until 2004, when Assassins finally had its Broadway debut. Directed by Joe Mantello, this version featured a cast that included Neil Patrick Harris, Michael Cerveris, Marc Kudisch, Dennis O'Hare, Mario Cantone, Alexander Gemignani, and James Barbour. The musical was an unqualified hit and won the Tony Award for the Best Revival.
Another musical that made the leap from Off-Broadway to Broadway with a long period between productions was Little Shop of Horrors. When the musical adaptation of the cult horror film originally opened at the Orpheum Theatre in 1982, Off-Broadway was not generally thought of as the place where musicals aiming for Broadway gestated. In fact, until the early 2000s, there was generally a clear line drawn between the Off-Broadway musical and the Broadway musical. Little Shop of Horrors, with its science fiction premise and its intimate cast size, was not the type of show that played on Broadway. Its freshness and avant-garde approach to musical theatre storytelling made it exactly the type of show that Off-Broadway was famous for, outside the conventions and constructs of Broadway. It was an enormous hit, especially by Off-Broadway standards, running 2,209 performances and picking up several accolades along the way. The show's success actually prompted offers to move the musical to Broadway, but book writer-lyricist-director Howard Ashman felt that Off-Broadway was exactly where Little Shop of Horrors belonged, and that is where it remained. A film version helped heighten the piece's popularity and the show soon found great success in regional markets, summer stocks and high schools. In 2003, 21 years after its Off-Broadway opening, Little Shop of Horrors opened at the Virginia Theatre (now the August Wilson) on Broadway with a cast led by Hunter Foster and Kerry Butler. Directed by Jerry Zaks, the production ran 372 performances despite some disappointing reviews and criticism that the musical lost its intimacy when it played a Broadway house. It was nominated for a Best Revival Tony, but lost to the revival of Nine starring Antonio Banderas. Perhaps Howard Ashman's instincts were right to keep it Off-Broadway where people could be up-close and personal with the campy show.
Violet, which opened Off-Broadway in 1997, is a musical with a challenging premise about a horribly disfigured girl who goes on a journey (aboard a bus) to seek both physical and spiritual healing. By most people's standards, this is not exactly the kind of musical that sets your toes a-tapping or creates an escapist evening of breezy entertainment. Not every Broadway musical is, but Violet benefited from starting out life in an Off-Broadway venue where a riskier piece has a better chance at success. Directed by Susan H. Schulman, it premiered, like Assassins, at Playwrights Horizons. Running for just over a month, the Jeanine Tesori-Brian Crawley musical was admired by many and, despite its limited run, picked up Drama Critics' Circle and Lucille Lortel Awards for Best Musical. Over time, Violet established a cult following and received many productions by theatre companies looking for a challenging musical with a compelling story and a strong, central female character. "The baby is going to college," said Violet composer Jeanine Tesori about the musical finally bowing on Broadway.
Jumping ahead to July of 2013, Encores! Off-Center series (a series that celebrates Off-Broadway musicals), based on the piece's growing popularity, presented Violet in a staged concert version with Sutton Foster in the title role. It was well-received and a new enthusiasm grew around the show. In 2014, The Roundabout Theatre mounted a full-scale Broadway debut for Violet, directed by Leigh Silverman and crafted around Foster (reprising her Encores! role). The production received four Tony nominations, though it was relegated to the Best Revival category instead of being considered a new musical.
Most recently, the musical that won the Tony Award for Best Revival without ever having played Broadway was the 2014 revival of Hedwig and the Angry Inch. The original production of the musical was very small, featuring John Cameron Mitchell in the title role of Hedwig, a transgender female from Germany who suffered a botched sex change operation and sings in a rock & roll band. Opening in 1998, the musical remained ensconced at the Jane Street Theatre for 857 performances. If Hedwig and the Angry Inch had moved to Broadway with that original production, it would have most likely struggled. America's views on transgender people have come a long way, but in 1998, the premise may have been a hard sell for Broadway audiences. The piece's popularity grew through an independent feature film version (starring Mitchell) that helped invite audiences into the world of Hedwig and the Angry Inch at the less-risky cost of a movie ticket or rental. When it finally did arrive on Broadway in 2014, a likeable, bankable star (best-known for starring in two popular television shows) came in the guise of Neil Patrick Harris filling the heels of Hedwig. The piece was cleverly reimagined for a larger stage by director Michael Mayer, and suddenly Hedwig and the Angry Inch was the must-see event of the season, picking up a Tony Award for Best Revival. Broadway audiences were ready for Hedwig and the show turned a profit in a very short period of time. This time around, the risk of playing Broadway was worth it.
Hedwig co-creator and star John Cameron Mitchell talks about performing on Broadway and what it means to be queer with Playbill. Read the exclusive interview here.
This season, Dames at Sea is readying itself for a revival that will play Broadway despite having never opened on the Great White Way. It ran Off-Broadway in 1968 and again in 1985, but it escaped the opportunity to be considered for Best Musical at the Tony Awards. Dames at Sea will undoubtedly find itself in the same company as Assassins, Little Shop of Horrors, Violet and Hedwig and the Angry Inch, denied the possibility of the most coveted prize of Best Musical because of unique circumstances.
In the end, it's the trip to Broadway that is most important, a chance to give these deserving musicals the exposure that they so richly deserve.
Mark Robinson is a theatre, television, and film historian who writes the blog "The Music That Makes Me Dance" found at markrobinsonwrites.com. Mark is the author of three books: "The Disney Song Encyclopedia," "The Encyclopedia of Television Theme Songs" and the two-volume "The World of Musicals."