Lisa Brescia, whose Broadway debut was in the 2000 revival of Andrew Lloyd Webber's Jesus Christ Superstar, made a welcome return to The Great White Way in August in the Tony-winning hit musical Dear Evan Hansen as Heidi Hansen, mother to the titular teenager. The powerhouse vocalist, who previously understudied the role as a temporary vacation cover, has also been seen in Broadway's Mamma Mia! (starring as Donna Sheridan), Wicked (Elphaba in Chicago and on Broadway), and Aida (Amneris in the final New York company), as well as The Woman in White and The Times They Are A-Changin'.
The actor, who is also a faculty member of Missouri State University's acting program, recently penned a list of her own most memorable nights in the theatre; her responses follow.
Jesus Christ Superstar
My Broadway debut: April 16, 2000, opening night of Jesus Christ Superstar. My mom was there with me, and it had huge personal meaning for me. In 1988, I'd moved from home to NYC with $300 and no real plan. She was terrified for me, and frankly, so was I. Twelve years later, she was my date that night. It was perfect.
The Woman in White
November 2005. When the stunning West End star Maria Friedman was diagnosed with breast cancer during early previews, I had only a few hours of rehearsal to play the leading role of Marian Halcombe. The cast, crew, and theatre gods were there with me, and it all went well. Andrew Lloyd Webber told me afterwards: "It's a Broadway fairy tale!" The most important detail in this story is that Maria was restored to good health (not to mention she called me from the hospital to wish me well that night...a class act).
Aida Closing Night on Broadway
September 5, 2004. Amneris was a dreamy role, and after spending two-and-a-half years with the show, I was still sorry to say goodbye.
Ordinary Days
Opening night of Roundabout Underground 2009 with Adam Gwon's perfect score and the incredible cast (Hunter Foster, Kate Wetherhead, and Jared Gertner), directed by Marc Bruni, musical direction by Vadim Feichtner. Playing the role of Claire, especially the masterful song "I'll Be Here" (about 9/11) every night was a privilege, as this musical love letter to NYC resonated so deeply with audiences.
All's Well That Ends Well
In 2010, Barry Edelstein (now artistic director of the Old Globe) directed a mobile production of All's Well That Ends Well for the Public Theater's Shakespeare Lab. I played Helena, opposite Jason Tam (Bertram). One of our performances was at a shelter for women (victims of domestic violence). Those brave women's enthusiasm for the play, the language, and Jason (they knew and loved him from his work on TV) was infectious and thrilling. That day I witnessed and experienced live theatre's capacity to uplift and transport people, and I'll never forget their bravery, generosity and sweetness.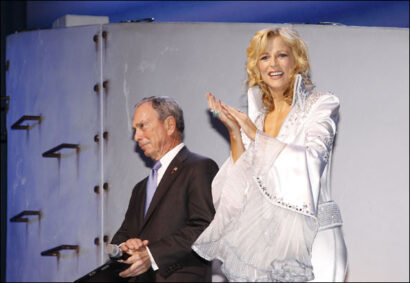 Mamma Mia! Day, New York City
Mamma Mia! celebrated its 10th anniversary on Broadway on October 18, 2011, while I was playing Donna Sheridan. Mayor Michael Bloomberg declared that date Mamma Mia! Day, and Broadway's original Donna, Louise Pitre, was there to celebrate with us. We had a ball.
Wicked in Chicago
Oriental Theater, 2008. First (and every) night of my run in the role of Elphaba, playing opposite my pal Annaleigh Ashford as Glinda. The chance to play this iconic role, in a brilliantly written show, and to share the stage with one of my best friends was a thrill.