As 2022 comes to a close, we're sharing the outfits that we're still thinking about from theatre's red carpets this year. There was gender-fluid fashion, Y2K nods, envy-inducing coats, gigantic skirts, cultural pride, and much more on display.

See some of the most memorable looks from this year's opening night red carpets on and off Broadway below.
1. Alysia Velez stunned in an impeccably fitted cowl-neck sheath and her natural hair at Into the Woods' opening night.
Style Credits: dress by Retrofête, and shoes by Aldo.
2. Bringing gender diversity to the red carpet, Justin David Sullivan bared hipbones in a fresh take on Y2K fashion—perfect for opening night of the throwback-filled & Juliet.
Style Credits: dress by Devon Horn.
3. For KPOP, his first Broadway red carpet, Joshua Lee stood out in a modern look that makes a nod to a traditional men's Korean hanbok.
Style Credits: hanbok by Kim Nam-Hee, shoes by Ferragamo, and jewelry by Grae Dancer.

4. Danielle Brooks took the hoodie dress to the next level in the embellished outfit for the opening night of The Piano Lesson.
Style Credit: dress by Harbison Studio, styled by Kelly Augustine, shoes by Schutz, makeup by Michael D. Patterson, and hair by Tish Celestine aka Ms.Tish.
5. Humor also has a place on the red carpet as Into the Woods star Gavin Creel showed with his Milky White t-shirt and shorts suit.

Style Credits: t-shirt by Into the Woods, and concept by Liz Wasser.
6. Kirk Cambridge-Del Pesche brought The Skin of Our Teeth's visual decadence to the show's red carpet in a marigold outfit that drew inspiration from East Asian traditional dress.
Style Credits: outfit designed by Kirk Cambridge-Del Pesche and made by Nancy Amaro, and shoes by Paul Smith.
7. Leaning into the opening night of MJ: The Musical, Kamille Upshaw went for a Michael Jackson-inspired look of a cobalt blazer and top hat, with a risqué body harness underneath. Talk about a thriller!
Style Credits: hat by FlameKeepers Hat Club, suit by Zara, shoes by Betsy Johnson, top by Victoria's Secret, and embellishments by Amazon Fashion.

8. KPOP songwriter Helen Park made her entrance as the first Asian American female composer on Broadway with a voluminous gold mini dress by Andrew Kwon with corset boning details in the bodice.
Style credits: dress by Andrew Kwon, and makeup by Markphong Tram.
9. J. Harrison Ghee capitalized on their height, and leaned into the gender-bending themes of Some Like It Hot, in a navy off-the-shoulder jumpsuit—accenting the look with a birdcage veil and top hat.
Style Credits: hat by Biliana Borissova, makeup by Danessa Myricks, jewelry by Swarovski and Staged Jewels, and jumpsuit by Kimberly Goldson.
10. Coming out to support her Les Misèrables film co-star Hugh Jackman, Anne Hathaway's topped off her cool and confident jumpsuit with an eye-catching harlequin coat for the opening night of The Music Man.
11. Also making a throwback to Y2K fashion, at & Juliet, Bobby "Pocket" Horner went edgy in all black with flared cargo pants, chains, a harness, and sheer opera-length skirt.
12. In all white, Marcel Spears paired his star-making turn in Fat Ham with a Gucci scarf, pink mini handbag, and a playful attitude.
Style Credits: hair by Sherrita E. Gunn, makeup by Marcel Spears, teeth by Grillz by Scotty, jewelry by Seoul Jewelry Co, undershirt by Forever 21 Men, vest by Zara, pants by Tommy Hilfiger, shoes by Aldo, and scarf and bag by Gucci.
13. Matt Raffy went for drama at & Juliet in a hot pink ruffled ballgown made of tulle (and matching the show's hot pink carpet).
14. Leaning into the fun graphic look of & Juliet, Megan Kane wore a form-fitting black dress with a gold hip chain and sequin hearts.
Style Credits: custom dress by Mika Inatome Custom Bridal.
15. Eddy Lee went classic for his KPOP opening night look. He wore a well-tailored suit, but with a twist: the ultramarine patterned suit featured brown piping, and was layered over a warm blue turtleneck.
Style Credits: suit by One/Of by Patricia Voto, and styling by Andrew Gelwicks.
16. For the opening night of Almost Famous, it was like liquid silver dripped off Solea Pfeiffer. She wore a backless gown with balloon sleeves and a high neck—a dress befitting a rock star.

Style Credits: dress by Sarah Slutsky Tooley, and hair by Karla Serrano.
17. Dressed for cool spring weather at Macbeth, Danai Gurira (who also starred in Richard III this past summer) showed that staying warm can be chic—she wore a bold black and yellow midi coat.
18. Jana Denne Jackson, Alisa Melendez, and Claire Kwon made a boho trio in gauzy white dresses, looking like artistic muses at Almost Famous.
Style Credits for Jana Denne Jackson: styling by Martín Lara Avila, and hair by Carly from Seagull Hair Salon.
Style Credits for Alisa Melendez: dress by Free People, boots by Jeffrey Campbell, accessories from Chelsea Flea, and hair and makeup by Alisa Melendez.
Style Credits for Claire Kwon: top by Swayed Stature, and shoes by Ooh Baby.

19. Simple and effective, Tiernan Tunnicliffe's strapless dress at & Juliet featured layers of colorful feathers from waist to heel—offset by a neutral bodice and shoes.
Style Credits: dress by Saint Sintra.
20. At KPOP, Zachary Noah Piser went for a peek-a-boo look in a striped sheer shirt and suspender pants paired with Doc Martens.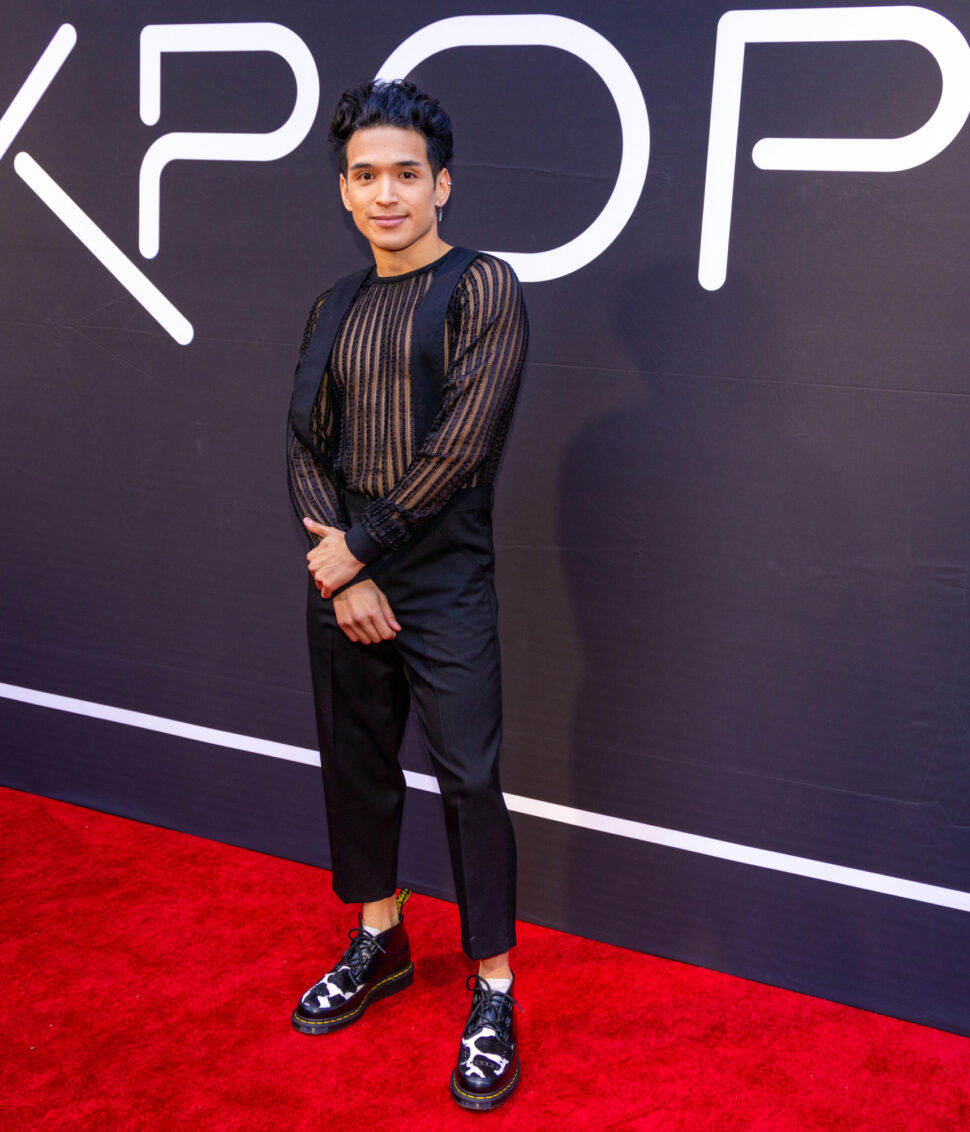 Style Credits: top by Orttu, suspenders by Comme des Garçons, and shoes by Dr. Martens.

21. Looking suave in a patterned suit, Nicholas Ward topped off his The Music Man red carpet outfit with a sash at the waist and oversized velvet bowtie.

Style Credits: suit by HacyA.
22. In an asymmetric wrap dress-meets-romper moment, Melanie La Barrie looked like a teenage dream in head-to-toe red with matching thigh high boots for & Juliet.
Style Credits: styling by Greg Dassonville for Dasson Vogue, dress and boots by Eloquii, jewelry by Versani, and tailoring by Jacqueline Bennett.
Check out all the outfits in the gallery below.
This year's Tony Awards was also filled with showstopping outfits like Kara Young's copper two-piece with a ballgown skirt. Check out some red carpet favorites from Broadway's big night out in 2022 here.