The pop-driven musical that starred Menzel as a woman starting her life over in New York City arrived on Broadway March 5, 2014, and officially opened March 30. It was created by Tony Award and Pulitzer Prize-winning Next to Normal writers Tom Kitt (music) and Brian Yorkey (score).
After 430 performances, If/Then wondered its final "What if?" in front of a house full of enthusiastic fans and friends. The writers joined the cast on stage for the bows and offered a few words about the musical's journey and took a moment to speak about the effort and courage that takes to bring a new musical to Broadway.
Composer Tom Kitt was the first to speak. "This has been such a spectacular and special afternoon, and I was not prepared for just how emotional this would be. You've just been an unbelievable audience," he said.
After taking time to collectively thank the cast, company, designers and many of the dedicated and unseen pros who kept If/Then going night after night, Kitt addressed the show's dedicated fans.
"I just want to thank all of you, the fans of the show who support us. So many of you have come to Brian and I and thanked us for the show, and we just want to thank you. Thank you for telling us.... You guys have been so extraordinary to us, telling us your personal stories about how this has affected you. That's affected us. It's made us better writers and better people. And lastly, before I hand it over, I just want to thank Brian Yorkey. Back in like 1998, Brian said to me, 'How about a show about a woman who's suffering from severe depression?,' and I said, 'Um, okay.' And this one was my turn, and Brian went with me on this one. And I want to thank him. I love him very dearly."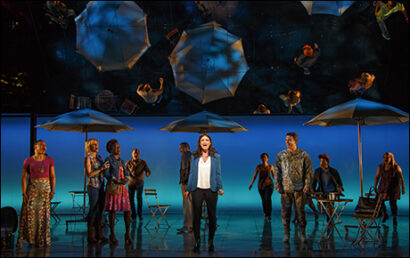 It was then Yorkey's turn to take the mic.
"I'm going to start with thanking Tom Kitt," he began. "Without him, I would be an obscure poet somewhere in Oregon. And who said to me a few years ago, 'How about a show about the choices we make in life and the things they affect that we know they'll affect and the things they affect that we don't know?' And I said, 'Okay.' Here we are today.
"Tom and I wanted to say just a word about courage. It takes tremendous courage to make a new musical happen. It's much easier... It's a lot easier to go with something tried and true and much harder to take a plunge on something that starts with an idea... And with no idea what it might end up being. This is the second time we've had the great fortune to do that on the greatest stage in the world – Broadway. And we wouldn't be here today without many, many people who, again, we wish we could take all afternoon to thank in person, but hopefully we'll see you later and we will," he laughed.
"But I wanted to point out the courage of a few people in particular. And the first is the courage of a woman who could have done any show she wanted to... Could have had her pick of any show, any revival. Oh. Here I go," he said, holding back tears.
"Instead, when we went to her and said, 'Well, we're kind of thinking about a show about a woman who comes back to New York and the choices she makes and the things that happen to her,' said, 'Okay.' And then proceeded to put the show on her back for years, and carry it forward and make it happen and make it one of the most beautiful things I've had the honor of being a part of. Idina Menzel, thank you for your courage."
A visibly moved Menzel stepped forward and planted a big kiss on Yorkey as the audience erupted into cheers and applause.
Collecting himself, Yorkey continued: "I've now completely forgotten anything else I was going to say," he laughed.
"A second person I want to thank is a man, who twice now, has hopped on board – this time when there was literally nothing more than an idea, and said, 'Yes, I will direct that show. I will shepherd you in its writing for years and years. I will never lose patience. I will never doubt you. I will never stop believing that this show can become something beautiful, and I will put it up on stage and make it beautiful.' Michael Greif, thank you for your courage.
"The third person whose courage is uppermost and tantamount and all those other words that are going out of my mind because Idina Menzel just kissed me... The man who, twice now, has taken two somewhat neurotic and slightly difficult writers and said, 'I like your talent. I like your moxie kid. I like your ideas, and I will make your show happen on Broadway...' A man who made this show happen for a glorious year... A man who is sending us out on tour... A man who has never stopped believing in us... David Stone, thank you for your courage."
Yorkey also offered a collective thank you to the many investors who helped bring If/Then to life and helped make "this untried, uncertain new musical a reality. Thank you all for having the courage to do that."
Before bidding the cast and the audience a final farewell, Yorkey took one last moment to speak about the reason everyone had gathered at the Richard Rodgers Theatre.
"Without any doubt, each and every one of us in this building loves the American musical as an art form," he said. "We love everything it's been, everything it is, and most of all, we love everything it has yet to be. You and I may disagree on which new shows will move the art forward, but we all have to agree that without new shows we will never move the art forward. So thank you to those producers, those investors and everyone. Thank you to our fans who have gone out and said, 'Go see the new show,' because your courage in standing up for us has made it possible for us to be here today.
"And the last thing I'll say before I cue the exit music. A number of years ago, on a stage a block south, David Stone said that you should all be so lucky to have a Tom Kitt and a Brian Yorkey in your life. And we would just like to say that you should all, especially you writers, should all be so lucky as to have a David Stone in your life. Thank you all."