I was so excited to write my "Essential Barbara Cook On Disc" — until I started working on it. This is hard! Barbara Cook is widely recognized as a peerless interpreter of the Great American Songbook and a muse to some of the greatest composers of the last century, and her work on record is extensive, to say the least. She made her Broadway debut in the 1950s, appearing as a leading ingénue in a string of landmark musicals and, in the 1970s, crossed over successfully into the cabaret and concert arena, where she's been arguably the preeminent singer of our time, recording almost countless albums. They are all wonderful.
In the interest of moderation, I've tried my best to keep this list down to a reasonable length — these are but a selection of my favorite Barbara Cook recordings, nowhere near exhaustive. And forget about any kind of ranking. I'll go to my death before I choose one of these over another. I present them in chronological order.
Click through to read my choices for the essential recordings of Barbara Cook.
Candide: Original Broadway Cast Recording
Leonard Bernstein's groundbreaking musical assured Barbara Cook a major foothold in musical theatre history. Her cast album performance as Cunegonde is absolutely stellar, top-to bottom, in every single group number and of course, in her legendary rendition of the coloratura set piece, "Glitter and Be Gay." It's not just the operatic legitimacy Cook brings to the rangy role, but the warmth and character in her voice, the unique beauty and expressive edge, that make her work so compelling. In the decades since, there have been numerous recordings of Candide, but no Cunegonde can match Barbara Cook.
The Music Man: Original Broadway Cast Recording
The Music Man is such an iconic show that it's easy to overlook Barbara Cook's participation in the original production, particularly given Shirley Jones' excellent performance in the hit film. However, Cook's Marian the librarian must not be overlooked. Forget every girl in every high school and community theatre who's taken on the role — and while you're at it, forget Shirley Jones. The depth and beauty of Cook's singing is here is truly singular. These deceptively simple songs shimmer in the rich nuances of her delivery. You think you know The Music Man, but until you re-investigate Barbara Cook's cast album Marian, you have no idea.

She Loves Me: Original Broadway Cast Recording
Often referred to as "the perfect musical," 1963's She Loves Me provided Barbara Cook with the perfect part. A step forward from garden-variety ingénues, Amalia Balash is smart, sexy, funny, quirky, neurotic and romantic. The cast album demonstrates Cook in all those modes as she gives one definitive performance after another on such classic Broadway gems as "Will He Like Me?" "Dear Friend" and "Ice Cream."

The King & I: 1964 Columbia Studio Cast Recording
Having played a brief run as Mrs. Anna in The King & I in 1960 at City Center, Cook got to record the role opposite in Theodore Bikel in 1964. It's hardly the ideal cast recording of The King & I, but no one has sung this music better than Barbara Cook. Just try to resist her warm soprano on such Rodgers and Hammerstein classics as "I Whistle A Happy Tune," "Getting To Know You," "Hello, Young Lovers," "Shall I Tell You What I Think Of You?" and "Shall We Dance?" Even better, this album includes a bonus reprise of "Something Wonderful" for Cook, and the richly modulated anthem fits her substantial instrument like a glove.

Show Boat: 1966 Music Theater of Lincoln Center Cast Recording
This is actually Cook's second recording of Magnolia in Show Boat, having previously essayed the part in a 1962 studio album, opposite John Raitt. Perhaps because this later version reflects her more developed performance in an actual stage run, I prefer it over the earlier, but I'm splitting hairs. It's easy to see why Cook's presence would be warranted on two separate Show Boat — and why I would favor this one, where she only sings a couple of songs, over several full-length solo albums omitted from my list. She is a dream vocalist for Jerome Kern's soaring melodies. There are any number of sopranos who could float and crescendo as Cook does in "You Are Love," but not one of them could do it with the feeling she conveys. It is not just glorious; it is genuinely moving.
The Grass Harp: Original Broadway Cast Recording
1971's The Grass Harp is a hot mess of a show, and the story of its failure is well documented in  Ken Mandelbaum's indispensable book "Not Since Carrie: 40 Years of Broadway Musical Flops." That said, the original cast recording offers many pleasures, including Karen Morow's indescribable 12-minute tour-de-force, "The Babylove Miracle Show," Carol Brice's several soulful songs and Barbara Cook's remarkably crystalline "Dropsy Cure Weather" and "Chain of Love." She shimmers. It's what Julie Andrews would have sounded like if she'd had talent. Stunning.
"Barbara Cook At Carnegie Hall"
By 1975, Barbara Cook had gotten fed up with the state of her existence in musical theatre and embarked on an entirely new career in concert halls and nightclubs. Her first solo album to result from this success was a thrilling evening of just Cook singing standards and signature showtunes. In addition to so many songs from Cook's own theatre repertoire, there are some truly inspired renditions of "Who Are You Now?", "Wait Till You See Him," "He Was Too Good To Me," "Time Heals Everything" and even Judy Collins' "My Father."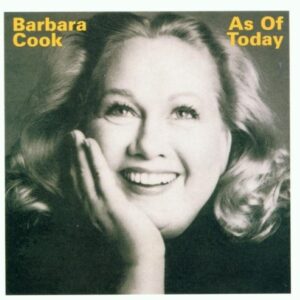 "As Of Today"
I would not include 1977's "As Of Today" my essentials list — except for one thing. Cook's cover of Janis Ian's "Stars" is worth far more than the price of this otherwise unexciting 1970s adult contemporary pop album. Cook infuses Ian's show-business survival story with so much personal emphasis and heart, it seems as if she'd written herself about her own experiences.

"It's Better With A Band"
I guess I'm ready to make a statement: "It's Better With A Band" is my single favorite Barbara Cook album. She and musical director Wally Harper really hit their collaborative stride in this 1981 live at Carnegie Hall collection of nothing less than thrilling arrangements that suit Cook to a T. I also think this album represents Cook's matriculation into the concert performer nonpareil that she is today. Here, her voice is just as glimmeringly gorgeous as ever, yet also fuller, darker and more evocative of pathos and pain, but also humor and wisdom. Her medley of "Remember" and "Come In From The Rain" is heartbreaking, a musical realization of nostalgic yearning, and her "If Love Were All" rivals Judy Garland's in poignancy. I can't say enough about this album. Just listen to it.

Follies
Tragically, the cast album of original 1971 Broadway production of Follies was severely truncated to fit on LP, resulting in a butchering of a number of the songs. This inspired an all-star 1985 Lincoln Center concert version, led by Barbara Cook in by-then rare theatrical turn as Sally. She is sublime. Effectively calling to memory her own youthful Broadway times in the retrospective sequences like "Don't Look At Me" and "Waiting Around For The Girls Upstairs," Cook's return to the stage powerfully echoes Sally's. And no one else could plumb "In Buddy's Eyes" and "Losing My Mind" and expertly as Cook. This is the epitome of Sondheim performance. This is art.

"The Disney Album"
Barbara Cook's 1988 solo album, "The Disney Album" is triumphant venture. You've never heard some of these songs like this. Wally Harper's arrangement of the disc's opening track, "With A Smile and A Song," for example, turns Snow White's ballad into a showstopper. The ballads that they leave as ballads are given first-class renditions unlikely to be equaled anywhere else. And there are swinging uptempos, bouncy novelty numbers, and still more showstoppers. Normally, my heart belongs to belters, but Barbara Cook's middle register is so full, so rich and so expressive that it essentially offers all the pleasures of a high belt. Combined with her exquisite top tones and all the luscious low notes she was beginning to unearth in this phase, you've got the ideal singer for 20th-century American popular songs.

"Close as Pages in a Book"
An excellent studio album for Barbara Cook was her 1993 Dorothy Fields songbook, "Close As Pages In A Book." Again, Wally Harper surrounds her with the perfect orchestrations, starting again with thrilling opening number that builds from an intimate croon to a joyous extravaganza in "It's Not Where You Start." The rest of the album lives right up to that high standard with world class worthy versions of chestnuts like "I'm In The Mood For Love" and unforgettable rare gems like "April Snow." Yet another album of our best at her best, through and through.

"Live From London"
Another high-ranking favorite Barbara Cook album of mine is 1994's "Live From London." Still in the absolute peak of her lustrous voice, Cook's interpretive powers are stronger than ever, enabling her to sail across a diverse set list, where even the more unexpected choices, such as "Can You Read My Mind," John Bucchino's "Sweet Dreams" and Michael Callen (and Peter Allen)'s "Love Don't Need A Reason" hit every right note, sounding just as germane to Cook's life's work as a singer of stories as the most obvious standard. Some songs here she's sung before, such as "Sweet Georgia Brown" and "Losing My Mind," but her interpretations deepen and grow and her voice fills them even more fully. Wally Harper and David Zippel's "In Between Goodbyes" is a finale on point for this set, wailing in glorious brass as the lady leaves the stage.

"Barbara Cook's Broadway"
A treasured record of Cook's 2004 smash hit one-woman show, "Barbara Cook's Broadway" is more than just two discs of Cook recreating Broadway history moment after moment, and it's more than just her expanding her repertoire to include stellar takes on some songs she didn't get to sing in She Loves Me and other shows. It's also a live recording of her between-song patter, including some fascinating stories about the times she's been around and the people she worked with, as well as a hilarious anecdote about her colleague, Elaine Stritch, who was at the time appearing her own triumphant solo show. The set ends with "The Party's Over," and, of course, it just melts in your ear. Even better, it's almost 10 years later and Cook has recorded another seven albums thus far. The Barbara Cook party is far from over — it's still raging!
(Ben Rimalower is the author and original star star of the critically acclaimed Patti Issues. Read Playbill.com's coverage of the solo show here. Visit him at benrimalower.com and follow @benrimalower on Twitter.)