Last week Playbill.com columnist Ben Rimalower shared his list of Broadway musicals he'd like to see return to Broadway. The column proved so popular, the staff at Playbill.com decided to weigh in with their own lists of musicals that deserve another Broadway run.
Click here to read Rimalower's column: "World, Take Me Back": 12 Musicals Due for a Broadway Revival.
Click through to read our picks.



Photo by Carol Rosegg
Matt Blank, Playbill.com Photo Editor
The Life. Probably the most listened to cast album on my iPod. Cy Coleman's energetic score is at different times soulful, festive, playful and haunting. And the story, depicting a gritty Times Square of days gone by, offers the opportunity for numerous star turns. I'd love to see some of the new generation of Broadway talent try their hand at "The Oldest Profession" or "Piece of the Action."
The Secret Garden. This show should still be running. The classic story is well told, and that lush score is nothing short of a masterpiece. Find me one person who doesn't love "Lily's Eyes." See. You can't do it.
Bat Boy. An Off-Broadway gem that you don't see produced often enough these days. Proof that a show can be silly and campy but also quite beautiful at the same time. And the music stands alone as an all-out excellent piece of theatre composition. I still laugh audibly when I listen to "Three Bedroom House," and "Apology to a Cow" gives me chills every time.
Chess. They've been trying to get the story "right" for decades, but many will agree that the score is a veritable greatest hits album, delivering one great original pop theatre tune after another. I've seen a number of excellent regional productions, all with different story elements and song usage, and it continues to evolve to this day. And what's more fun than the inherent drama and anticipation leading up to "Pity the Child"? Will he hit those notes or not? That's a good story in itself.
Mark Ezovski, Playbill.com Video Editor
Cats. Why did Cats ever leave us in the first place? This Andrew Lloyd Webber classic is such a document of its time (it's oozes outré '70s and '80s style!) that it would be really interesting to see a fresh take on Broadway. Maybe the West End production featuring rapping cats will make it to NYC soon? Note to potential producers -- any rap elements should pull from the West Coast style of hip hop, not the East Coast style. Thanks!
Once on This Island. For a show that so respected and revered, Lynn Ahrens and Stephen Flaherty's Once on This Island doesn't seem to have the mainstream popularity that it should. This show deserves another shot to feel the love from Broadway fans.
Falsettos. William Finn and James Lapine's Falsettos and Tony Kushner's Angels in America diptych ran on Broadway in the midst of the AIDS crisis. With changes in societal attitudes and a ever-growing awareness of LGBT issues as well as following on the success of The Normal Heart's 2011 revival (and subsequent film adaptation), the time seems right to bring back some important shows detailing the struggles of an era gone by.



Photo by Martha Swope
Andrew Gans, Playbill.com Senior Editor
Evita
Evita was the musical that hooked me on theatre when, after months of pleading, my parents took me to see Patti LuPone's tremendous performance when I was in intermediate school. Having waited 30 years for another Broadway production, I have to admit I was disappointed by aspects of the casting of the recent revival. Perhaps no one will ever eclipse the performances of original Evas LuPone, Elaine Paige and Florence Lacey, but there are several gals I can think of who could offer vocal fireworks with one of Andrew Lloyd Webber's finest scores.
Titanic
An intimate staging of this Tony-winning Peter Stone-Maury Yeston musical had been scheduled for a Broadway revival this fall but was recently postponed. Should this moving musical return to Broadway, I would love to witness a full-scale, grand production with a large orchestra and chorus that could do full justice to one of the great scores — and one of the best opening numbers — of the last 15 years.
Baby
Okay, so the book of this 1984 musical may need some reworking, but the little-heard Richard Maltby Jr.-David Shire score is chock-full of gorgeous ballads ("I Chose Right," "The Story Goes On"), toe-tapping delights ("Two People in Love," "What Could Be Better") and showstoppers ("I Want It All"). I've always felt an intimate production, perhaps Off-Broadway, focusing on the three couples might be just the way to go with this delightful show.



Photo by Martha Swope
Michael Gioia, Playbill.com Staff Writer
Dreamgirls: This is an obvious choice for me.
Bat Boy: This is such a weird little musical, but I would kill to see a revival of it. I love small, intimate musicals with a twisted plot and good music. Since Heathers just ended its run, how about Laurence O'Keefe's other musical take up residence at New World Stages? The same goes for The Rocky Horror Show! I'd be up to doing the Time Warp again!
Miss Saigon: Fingers crossed for a transfer from the West End! This production looks gorgeous, and I'd love to see this musical back on Broadway. Also, Eva Noblezada is a star in the making. I was lucky enough to see her bring down the house at the Jimmy Awards, and I'd be thrilled for her to make her Broadway debut in this role. Read my Q&A with Noblezada here!
Into the Woods: The time is now! With all of the buzz that Into the Woods is getting from the upcoming movie, it may be the perfect time for this brilliant, intricate musical to get back on Broadway.
Adam Hetrick, Playbill.com Editor in Chief
Kiss of the Spider Woman. I'm not sure if it will be possible to top Harold Prince's original production, or the performances of Chita Rivera and Brent Carver. But Terrence McNally's book, which interweaves fantasy and reality, is studded with show-stopping production numbers and character-rich songs that are signature Kander and Ebb. Plus, I think Catherine Zeta-Jones could make a great Aurora/Spider Woman.
Grand Hotel. This Maury Yeston, Robert Wright and George Forrest musical features one of my favorite Broadway scores. Perhaps a John Doyle production (sans actor-musicians) will come along.
The Most Happy Fella. The biggest disappointment of the season, for me, was that a transfer was not announced for City Center Encores' glorious production of this Frank Loesser classic with a luminous Laura Benanti as Rosabella. Not only was it perfectly cast (shout-outs to Shuler Hensley, Heidi Blickenstaff and Cheyenne Jackson), but Tony Award winner Casey Nicholaw expertly staged the show on a simple and evocative set by John Lee Beatty that not only showcased the orchestra, but also showcased Loesser's beautiful score and Don Walker's orchestrations.
Song and Dance. Honestly, I'm very curious to see how this Andrew Lloyd Webber musical would play on Broadway today. It might be a tough one to crack, especially with performances by Bernadette Peters (and later Betty Buckley) in our theatrical psyche, but I've always been drawn to the score and what Song and Dance has to say about the New York experience. Does it play as a contemporary piece, or can we keep it as a glimpse of gritty 1980's NYC? I'd love to find out. Carousel. Broadway should never be without a Rodgers and Hammerstein classic, and Carousel is my favorite of their collaborations. I still have memories of the Royal National Theatre production that hit Broadway in 1994. While part of me would love to see that very same production once again, I fell equally in love with the 2013 New York Philharmonic staging that featured direction by John Rando, choreography by Warren Carlyle and Kelli O'Hara as Julie Jordan.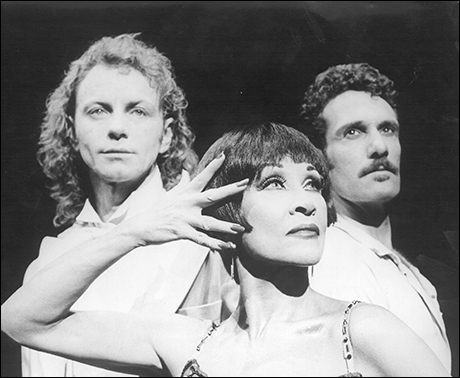 photo by Martha Swope
Carey Purcell, Playbill.com Features Editor
Kiss Me, Kate. It would be "wunderbar" to see a revival off Kiss Me, Kate. This musical battle of the sexes features so many classic Cole Porter tunes and the chance for some great performers to show off their talents.
The Pirates of Penzance. Not seen on Broadway since 1981, this comic opera is long overdue for a revival. And, imagine how much fun it would be to dream cast The Pirate King!



Photo by Henry Grossman
Blake Ross, Playbill Magazine Editor in Chief
Little Shop of Horrors. Written by Tony and Academy Award winner Alan Menken and the late Howard Ashman, the dark pop musical based on the cult film premiered Off-Broadway in 1982 and played a year-long Broadway run in 2003.
Funny Girl. The Jule Styne-Bob Merrill-Isobel Lennart hasn't paraded back to Broadway since its 1964 premiere with Barbra Streisand. We're overdue!
Once Upon a Mattress. Carol Burnett famously starred in the original Broadway production of the musical that has a score by the late Mary Rodgers. The musical based on "The Princess and the Pea" was last seen on Broadway with Sarah Jessica Parker as Winnifred in 1996.
Two Gentleman of Verona. Galt MacDermot and John Guare's musical adaptation of Shakespeare's comedy premiered on Broadway in 1971 and has yet to return.