Now in its 16th year, the New York Musical Festival has proven a hotbed of talent onstage and in the writer's room. The Festival has given birth to such titles as Next to Normal, [title of show], and The Other Josh Cohen. This year, a new crop of writers light up the Festival marquees through August 4.
Here are seven shows to pay extra attention to before the month-long fest comes to close:
Black Hole Wedding July 15–20
Book, music, and lyrics by Paul Edward Nelson and Katherine Brann Fredricks
This "zany satire of energy politics" is also a love story at its core. As the government-manipulating oil baron Dean goes to all lengths to capture renewable energy discoveries, science nerd Raymond fights back with a black hole trash compactor. But when Dean threatens to feed Raymond's fiancée to the machine, who will win the war? Directed by Craig George, choreographed by Shelly Hutchinson, with music direction by Nevada Lozano, this production stars Broadway's Sean McDermott as the wild villain in this madcap comedy.

Leaving Eden July 16–21
Book, music, and lyrics by Jenny Waxman and Ben Page
Additional music by Ada Westfall
In the beginning God created man and woman; Adam and Lilith. Lilith has some questions, Adam has some rules, and in a modern metropolis, Eve must deal with a mess of her own creation. Directed by Susanna Wolk, whose credits include the PIT, The Flea, Williamstown, and more, this daring new musical asks if we have to leave the place we know to discover its true character. The cast includes a slew of Broadway alums such as Gabrielle McClinton (Pippin), Janet Krupin (Bring It On), Azudi Onyejekwe (The Great Comet) and Ian Ward (Gettin' the Band Back Together), and newcomer Sarah-Anne Martinez.

Finding Beautiful July 17–19
Music and lyrics by Danny Bristoll and Anessa Marie
In this song cycle, seven people (played by Marie, Amy Burgess, Annika Chavez, Rachel Rose Gilmour, Jacob Michael, Darius-Anthony Robinson, and Hannah Rose) work to build a community while simultaneously cultivating authentic individual expression. Marie is the the first-ever NYMF Fellow.

Flying Lessons July 22–28
Book, music, and lyrics by Donald Rupe
Middle-schooler Isabella is assigned to write a paper on an historical figure. When Amelia Earhart and Frederick Douglass visit her in a dream, she examines what it means to be historically great. Megan Valle and Brandon Martin star as Earhart and Douglass, respectively, in this original, moving new musical.

Overture July 24–28
Book by Krista Eyler and Barbara Nichols
Music and lyrics by Krista Eyler
In 1953, the Kansas City Philharmonic was struggling to survive. The surrounding community launched the Philharmonic's first opera festival in the 1953–1954 season to save the cultural institution. Directed by Nichols, Overture takes audiences inside the world of these historic events through the eyes of two not-so-historic characters, Lily and Christopher.

Till July 23–28
Book by Leo Schwartz and DC Cathro
Music and lyrics by Leo Schwartz
Till tells the story of Emmett and Mamie Till. While visiting relatives in Mississippi in 1955, Emmett was brutally murdered in a vicious hate crime. His mother insisted on an open casket funeral to show the world what happened. Directed by NJ Agwuna, Till stars Denielle Marie Gray as Mamie and Taylor A. Blackman as Emmett.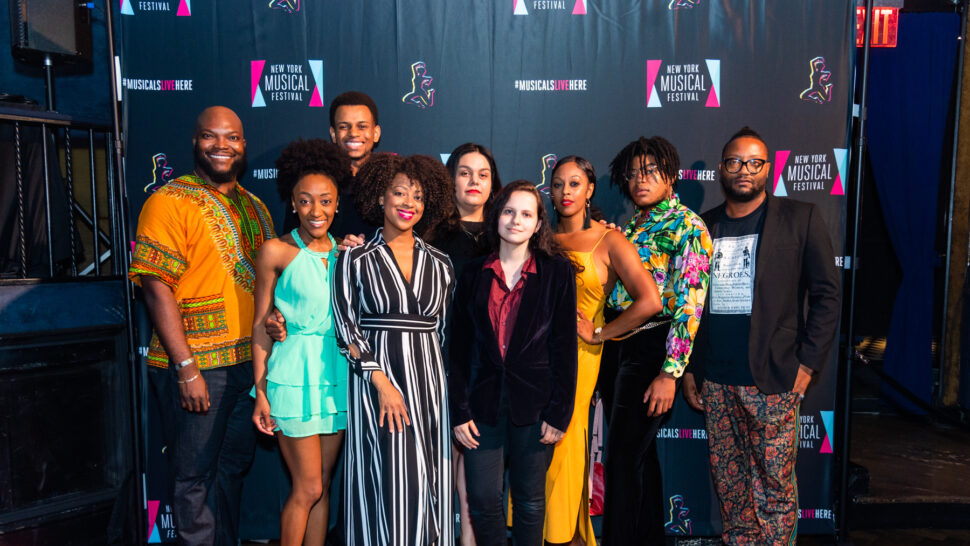 My Real Mother July 30–August 4
Book, music, and lyrics by Riley Thomas
Elena Shaddow (The Visit) and Katie LaMark (Rent 20th anniversary national tour) star as Alaina and Alex. But when Alaina and her husband adopt Alex's baby, the two women form a life-changing bond. Across 25 years, we watch their relationship evolve. Led by director Misti B. Wills and choreographed by Shannon Lewis, My Real Mother features a contemporary musical theatre score filled with heart and humor.