William Shakespeare's 39 plays—give or take, depending on who you ask—are performed constantly around the world thanks to his truly unparalleled way with words and dramatic storytelling. Broadway writers have also frequently turned to Shakespeare for source material, and with good reason; the works of Shakespeare are filled with high drama and big laughs—and they're not protected by copyright.
Here, we take a look at 12 musicals based on the work of Shakespeare.
1. West Side Story
We have to begin with the quintessential Shakespeare musical: West Side Story, a re-telling of Shakespeare's Romeo and Juliet. It was director-choreographer Jerome Robbins who first had the idea to update Shakespeare's tragic tale of star-crossed lovers doomed by their feuding families in 14th-century Italy to a then-modern day scenario of two rival gangs on New York City's Upper West Side. Robbins teamed with book writer Arthur Laurents, composer Leonard Bernstein, and lyricist Stephen Sondheim to create the show, which premiered on Broadway in 1957.
Though West Side Story is not a direct adaptation of Romeo and Juliet, the two share several plot points, such as a balcony scene between the lovers (a fire escape in West Side Story) and the Romeo figure, Tony, murdering a close family member of his love. Also of note, Tony's famous "Something's Coming" replaces Romeo's monologue about Rosamond, but mimics the feeling of him being lost to emotion and on the brink of change. The musical takes a departure, however, in adapting Romeo and Juliet's famously-tragic ending, which sees both its title characters killed. In West Side Story, Tony (the Romeo-modeled character) is murdered, but his love, Maria, lives on with the trauma of the experience.
West Side Story went on to be adapted into a wildly successful and Oscar-winning film in 1961, and has become a staple of high school English teachers as a tool for covering Romeo and Juliet.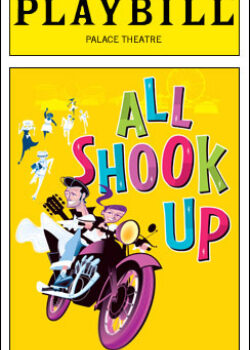 2. All Shook Up
Book writer Joe DiPietro looked to Shakespeare's Twelfth Night when selecting a plot that could link together songs made famous by Elvis Presley in this jukebox musical, which premiered on Broadway in 2005. This comedic story of love, mistaken identity, and long-lost siblings has proven fertile ground for adaptation; we will encounter it again on this list. All Shook Up took a cue from Presley's legacy in moving the action to the American Midwest in the 1950s, turning Shakespeare's Viola—who disguises herself as Cesario in the original—into Natalie the car mechanic, who disguises herself as Ed so that the Elvis-like Chad will pay more attention to her.
All Shook Up was ultimately short-lived on Broadway, running for just 213 performances, but has gone on to enjoy U.S. and U.K. tours, as well as a number of regional productions. Cheyenne Jackson played his first starring role on Broadway creating the role of Chad.
3. Kiss Me, Kate
This Shakespeare musical adaptation gets meta. Shakespeare's The Taming of the Shrew's tempestuous lovers Petruchio and Katherina become Fred and Lilli, two actors leading the company of a musical version of The Taming of the Shrew—and play Petruchio and Katharine in it—but also share an offstage relationship similar to that of their Shrew characters. The idea was reportedly inspired by Kiss Me, Kate producer Arnold Saint-Subber's experience watching the on- and off-stage relationship of husband and wife acting team Alfred Lunt and Lynn Fontanne during a 1935 production of The Taming of the Shrew. Saint-Subber brought on Samuel and Bella Spewack to adapt the story into a musical, with Cole Porter providing the songs. Kiss Me, Kate became a classic of the genre almost immediately after it premiered in 1948.
The show won the first-ever Best Musical Tony Award in 1949, and has been popular on Broadway and around the world ever since. A 1999 revival starred Brian Stokes Mitchell and Marin Mazzie, and a 2019 production, starring Will Chase and Kelli O'Hara, earned four Tony nominations.
4. Rockabye Hamlet
Shakespeare's classic story of the Danish prince avenging his father's death got the rock-musical treatment with Cliff Jones' Rockabye Hamlet. The musical started in 1973 as a Canadian radio broadcast under the title Kronborg: 1582, taking its name from the castle where Hamlet takes place. In February 1976, a revised version (now named Rockabye Hamlet) opened on Broadway with a cast that included Larry Marshall in the title role and Meat Loaf as the Priest. Rockabye Hamlet famously lasted seven performances after its opening night, but the show has periodically emerged in new productions over the years, usually with more revisions and even more new titles. The show played Los Angeles for 18 months in 1981 as Somethin' Rockin' in Denmark, was revived in Astoria, New York, as Rockabye Hamlet in 2014, and reverted to the earliest title Kronborg: 1582 for a 2017 concert production at The Charlottetown Festival in Canada.