Included in the audition notice for the upcoming 2016 Encores! concert revival of 1776 is the specification that "This will [be] a completely multi-ethnic production."
The Broadway original, which starred William Daniels as John Adams, was cast entirely with caucasian actors, reflecting the actual ethnic makeup of the Founding Fathers. However Hamilton, which has at least one character in common, Thomas Jefferson, uses a multi-ethnic cast to recontextualize history for modern audiences.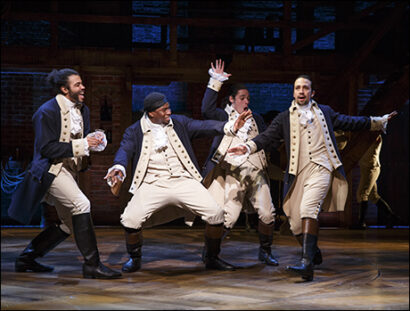 Jack Viertel, Encores! Artistic Director, told Playbill.com, ""We chose to do 1776 in part because of the success of Hamilton — it covers a lot of the same history in a completely different way because it was written in a completely different era, which should make things interesting. But we're presenting it now, not then, and every show that we do at Encores! is set in three periods, really — the present, the era it was written in, and the era it is set in."
He added, "To do justice to the first, it only seemed logical to celebrate one of the things that has finally taken Broadway by storm, thanks in great part to Hamilton — making the event on stage as diverse as the America we live in. One of the reasons I turned to Garry Hynes to direct was because of the way she did Druid/Shakespeare — it was not particularly racially diverse but it was gender-neutral. It's really a way of looking at the world that embraces the universality of difference. And since we're a land of immigrants, and ever-increasingly a land of racial diversity and broadly defined gender identity, a show about a group of people breaking away from traditional definitions seemed an ideal place to practice what the show is actually preaching."
From Last Five Years to The Notorious B.I.G. – Hamilton Shout-Outs and References You Need to Know
This new 1776, which will be directed by Garry Hynes, and music directed by Rob Berman, appears ready to follow suit.
Rehearsals are scheduled to being March 16, 2016 with previews commencing March 30 and opening night set for April 3 at the City Center in New York.
Click here to see details on the entire upcoming Encores! season.
Where He Lived, Died and Told His Story: The Real-Life Sites of Hamilton's Revolution