Balanchine: The City Center Years (October 31–November 4) offers an unprecedented week of enthralling dances by George Balanchine. The series features sparkling repertory with a history at the storied venue, which celebrates its 75th anniversary this season. It is a rare chance to see 13 of the choreographer's most beloved works performed by eight of the world's greatest ballet companies: The Royal Ballet, the Mariinsky, and Paris Opera Ballet from abroad; US-based San Francisco, Miami City, and Joffrey Ballets; plus New York companies American Ballet Theatre and New York City Ballet.
More than three decades after his passing, Balanchine remains the foremost choreographer of American ballet. He produced a body of work with immense breadth, redefining classical ballet and forging a revolutionary modern style. Starting in 1948, New York City Center served as Balanchine and his company's home for 15 years, premiering numerous seminal and renowned dances (primarily for New York City Ballet) which continue to thrill and challenge audiences.
"As many audience members and dance writers have noted, the Balanchine repertoire is seen with an especially nuanced and immediate dimension in our theater," said Arlene Shuler, president and CEO of City Center. "This celebration will offer the opportunity to take in all these works from an unusually intimate perspective. Perhaps the biggest thrill is the chance to see the different artistic points of view, represented by these eight renowned companies, and the extraordinary dancers they are bringing."
Balanchine—whose work epitomizes American ballet in general and New York modernism in particular—was born in 1904 in St. Petersburg, Russia, where he joined the Imperial Theater School and subsequently the illustrious Mariinsky Ballet. He began creating dances at 16 years old and later joined Diaghilev's Ballets Russes, where he performed and choreographed. In London, Balanchine met impresario Lincoln Kirstein, who convinced Balanchine to join him in New York to create an American company and school.
Before 1948, when New York City Ballet took up residence at City Center, Balanchine's troupe evolved. It served as resident ballet company at the Met Opera and traveled extensively. Balanchine and Kirstein formed Ballet Society (which would become New York City Ballet) and moved to City Center upon the invitation of Morton Baum. The company's inaugural City Center program comprised Balanchine's Concerto Barocco, Orpheus, and Symphony in C. New York City Ballet joined resident theater and opera companies at City Center, which had become a prime locus for culture. In 1953, the venue's audience was described in The New York Times: "...Nothing is too good, too experimental, or too exacting for the City Center's public...." With some stability, Balanchine's prodigious talent more fully flourished in this lively cultural center.
"Many of his most iconic ballets were created for our stage," Shuler notes. "These performances are a homecoming of sorts for the thirteen works that comprise this unprecedented event."
Each of City Center's six well-rounded Balanchine programs shows his remarkable artistic diversity. While he is renowned for ushering in modernism in ballet, he also developed and expanded classicism in works such as Symphonie Concertante and Symphony in C. His ingenious use of the corps de ballet as a featured element, in addition to framing soloists and adding visual texture, is on ample display in these stunning works. His ingenuity and experimentation in classical ballet are particularly visible in the Glinka Pas de Trois and Divertimento No. 15. Balanchine's musicality is legendary, with detailed phrasing and direction shifts both subtle and bold—exemplary in the exhilarating Tschaikovsky Pas de Deux, Tarantella, and in Concerto Barocco's playful counterpoint.
Balanchine's passion for stories and legends are manifested in the enchanting A Midsummer Night's Dream pas de deux, Apollo, and Scotch Symphony. He forged a path for modernism in ballet, including dances such as the plotless and sublime Serenade and two paradigms of modernism, Agon and The Four Temperaments. In his early career, budgets were a concern. Thus many of his ballets utilize simple leotards for costumes; austere stages are given shape and mood primarily by lighting.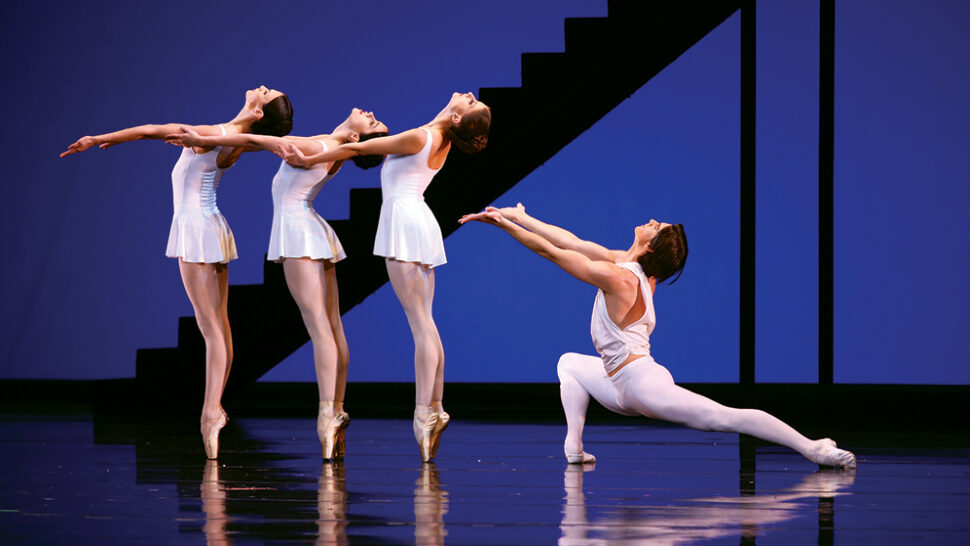 Putting together a series featuring eight superlative ballet companies is logistically dizzying by any standard. City Center, however, has years of experience producing ambitious programming such as the annual Fall for Dance Festival, which has presented about 20 companies in each of its 15 years. No doubt, for the Balanchine celebration, it has the expertise needed to adroitly wrangle many moving parts.
Stanford Makishi, City Center's vice president of programming, said, "We started repertory selection first by identifying all of the ballets that were either created by Balanchine as world premieres for the City Center stage or first performed by New York City Ballet at City Center." Companies identified which works on the list would be active during the designated period, and as luck would have it, repertory assignments fell in line with relative ease.
"In terms of getting those eight major companies here all in the same week, what could have been a quagmire of disappointment turned out to be a scheduling miracle," continued Makishi. "Nearly all of the companies we approached happened to be available during the week we chose for this event. There were many, many, many other logistical issues involved in putting this together, but scheduling was not one of them."
No doubt Balanchine fans will delight in revisiting their favorite dances or seeing them performed by other stellar companies. For everyone, it is a once-in-a-lifetime chance to sample work by the world's greatest ballet choreographer, performed by a roster of superlative artists—an extraordinary, star-studded celebration of City Center's 75 years!
Susan Yung is a freelance culture writer based in New York.