Larry Owens may be an in-demand actor—whose credits include A Strange Loop on stage, Abbott Elementary and Search Party on screen—but he has wider ambitions. Sure, he can perform a cabaret show whenever he wants to in New York City (and he has, including at Carnegie Hall). But he wants to be able to do that in London. "I really want to gain this country as an audience and return with Sondheimia, my Sondheim concert hour and to play London, the U.K., and Europe—that would be a dream," he says frankly.
And the first step to do that? Have a successful run at the Edinburgh Festival Fringe, which is where Playbill caught up with Owens after a performance of his solo show Larry Owens Live: POC—Proof of Concept. In the show, which Owens previously performed in New York, he recalls a period in 2017 when he was broke and unable to find work, and being "too Black" and "too gay." And he sings in the show, too, fabulously.
Granted, Owens has come a long way since that uncertain time—he broke out when he played Usher in the world premiere run of A Strange Loop Off-Broadway and that role propelled him into film and television. And in Edinburgh, POC has earned rave reviews from The Scotsman, The Guardian, and many other publications (including this one). So if he wanted to gain U.K. fans, mission accomplished.
"Historically, Europe and the U.K. have been really hospitable to Black artists," muses Owens. "It's more about the artistry [here]. And there's actually an incentive to hear from a perspective that is American, that is Black. Like, I sat in the Barbican, with thousands people watching A Strange Loop [currently running in London]. And they were intent and participatory. And that's, like, mind-blowing in some respects to the Larry who created POC."
Below, Owens discusses why Fringe is a rite of passage for any comedian looking to make their mark, and his decision to end his show with "Being Alive" from Company.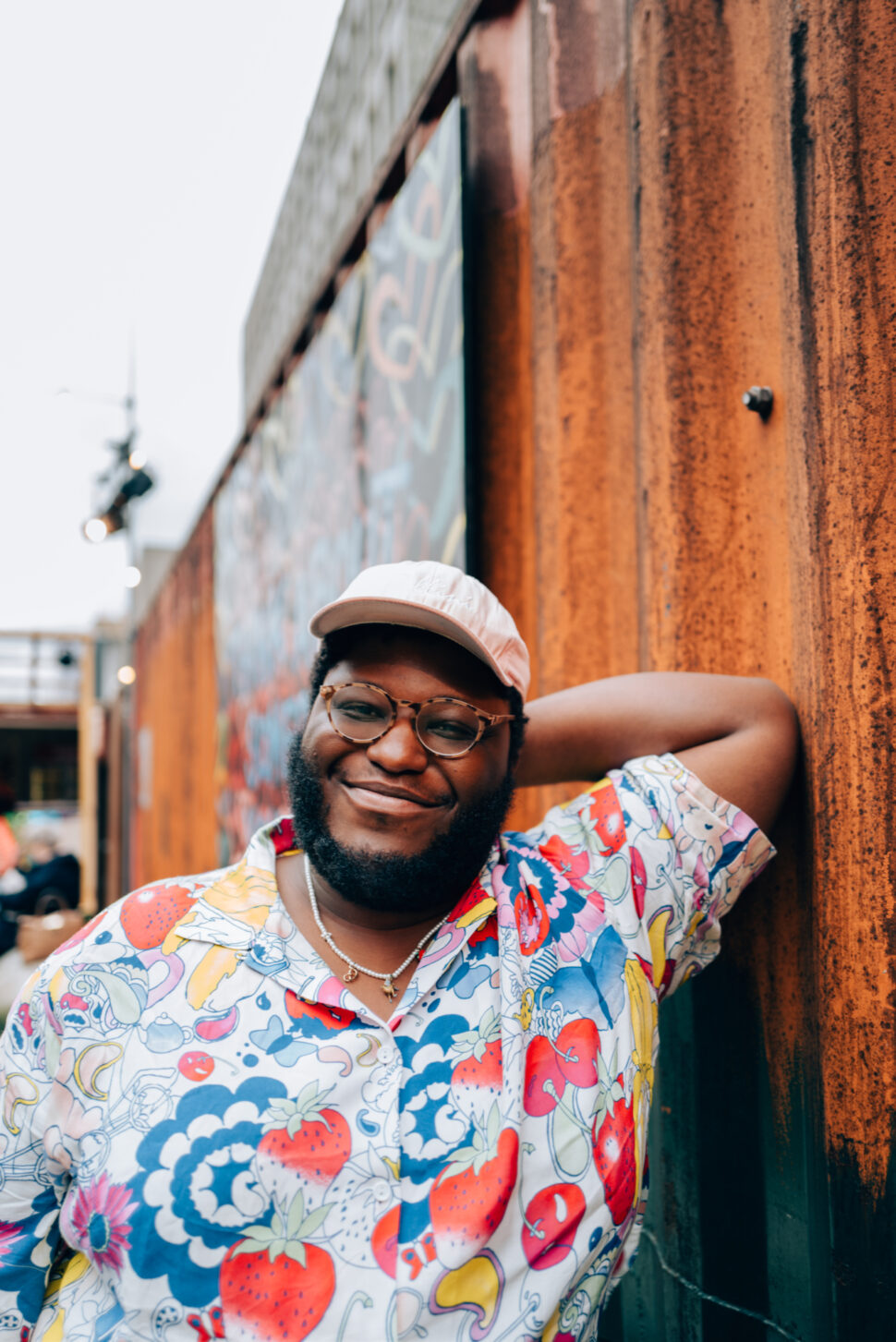 Why the Edinburgh Fringe?
Larry Owens: I'm fortunate to work in stand-up comedy, just by being invited through the Brooklyn alt-comedy scene a few years ago. [The Fringe is] this milestone. It's like a pilgrimage that comedians in their careers make. And we [in the U.S.] have a great respect for U.K. venerated shows—look at the landscape of Broadway, I don't know the percentage, but many, many, many things transfer from the West End. And my friend, Catherine Cohen, she played the Fringe, and then it preceded her Netflix special. So it has a really fantastic pipeline. And it's a huge global visibility, which I'm super excited about. They say, "If I can make it there, I can make it anywhere," of New York. And I feel like I have connected there. And so, this is a really amazing opportunity to connect with a different global audience.

How does it feel performing the piece now and looking back on your younger self?
Before, I approached it completely as a piece of stand up comedy. It was important for me to be seen in that world as a person holding a microphone, telling stories that just happened to involve music—I wanted to be really clear about that genre. And now, I'm approaching it a bit like a play; this is the character of Larry. And this is a younger version of myself. And because the songs were written in moments of truth, and honestly, a lot of despair, it requires some of my theatrical technique to approach it every night, and to have the bravery to do it.
Comedically, I would love to have moved on, I would love to be talking about current events—I was gonna say, a popular film, but we can't do that because I'm on strike. I'd love to be talking about current events and pop culture, but this material is evergreen. And so it's requiring me to be brave enough to live with a younger, more crude version of my artistry, that still deserves to be seen.
In the show, Larry asks himself, what are you compromising when you're looking for success? What have you discovered about that now after the show, now that you're successful?
That's a great question. [pauses] The work and the dream supersedes any of the negativity. I look at a world landscape where we have like Black queer folks winning Tony Awards in the most prominent categories, and it feels worth it. You know, I saw A Strange Loop on the West End and looking at Kyle Freeman on stage, it's worth it. The character of Larry in POC is prostrating himself at the altar of entertainment, and wondering if it's worth it. And then Larry today is looking at the last few years and seeing that it is, and it continues to be. To represent a beautiful queer relationship in Abbott Elementary with vitality and humor and purity—that's a gift. If I saw that on television as a child, I would know that I had a place in the world.

The Larry Owens who created POC didn't think there'd be an audience for his work, or he was told there wasn't. So, I feel like it's a nice little meta commentary of, "Oh, there was a victory here." Because you're here.
Yeah, when I sing "Being Alive" at the end, it really proclaims that there's nothing like this moment of togetherness, there's nothing like performance. The show was called Larry Owens Live and that's an important part of the title because I need you in the room. Until I have like a three-camera special, taped at the Steppenwolf Theater, that's beautifully programmed by someone that we're striking against right now—the best way that I'm going to communicate what I do is not through my iPhone camera, it's live. That's the victory, having these souls in the room, sharing, being clear. And that give and take of being and feeling heard.
Read more of Playbill's on-the-ground coverage of the Edinburgh Festival Fringe here.